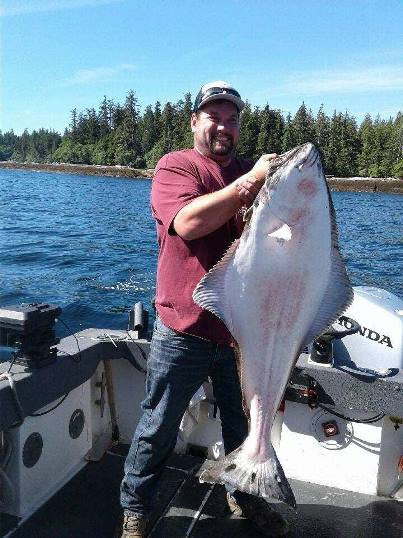 The ice is melting, and the warmer temperatures start to enter Alaska, one thing is on everyone's mind: fishing season. Halibut fishing is a favorite charter at this time of the year. The halibut season runs from mid-May through almost mid-September. Anglers Adventures and Outfitters can help you plan your next halibut fishing trip, whether you have been before or are just starting to explore halibut fishing.
Any serious angler should strive to catch a large halibut. Although halibut weighed on average between 15 and 20 pounds, some anglers have caught halibut weighing well over 150 pounds. The current state record for halibut that a fisherman has caught is 459 pounds. All anglers love halibut, and they are a highly prized fish. These flat fish are high in Omega-3 fatty acid, protein, vitamins, and minerals. They are easy to cook and season with their mild flavor. This fish is unique because they swim sideways in water and have only one eye. They are plentiful in Ketchikan's water during the warmer months.
Anglers Adventures and Outfitters' professional staff has taken care of everything, so you don't have to. All the gear required for full-day, or multi-day halibut fishing trip is prepared by Anglers Adventures and Outfitters. All the gear needed for a halibut fishing excursion includes bait, tackle and lures. You will also find plenty of snacks and beverages onboard to keep you energized. Our boat also has two 225hp Hondas, an enclosed heated cabin, a chart plotter and GPS as well as depth sounders. You will find everything you need to have a great day on the water!
Guided By An Experienced Local Professional Angler
Anglers Adventures and Outfitters will make sure that your halibut fishing trip is memorable. Brian Ringeisen is the Founder and Captain of Anglers Adventures and Outfitters. He loves what he does every single day. Brian has nearly 30 years of experience in guiding boats and can provide you with the insight and advice you need to make your fishing trip a success. Brian is highly qualified to assist you on your next fishing trip. Brian holds a U.S. Coast Guard Captain's license, CPR, and First Aid certifications and has full boat licensing.
Amazing Halibut Sportfishing Options In Ketchikan
You can't afford to miss sportfishing in Ketchikan. It is a must-do on any Alaska trip. Halibut fishing is great fun for all ages! Anglers Adventures and Outfitters can provide more information on halibut fishing charters from Ketchikan in Alaska. Call (907) 254-0880 or send an email to brian@anglers-adventures.com.