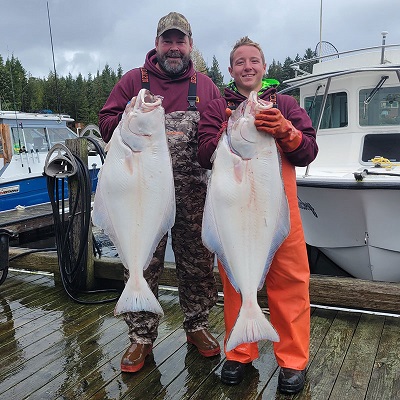 With Americans spending more and more time behind a phone, tablet or computer screen it can be difficult to dedicate enough time to explore the great outdoors. If you've always wanted to disconnect and get out of your comfort zone a bit, a halibut fishing adventure in Ketchikan, Alaska may be just what you're looking for! At Anglers Adventures & Outfitters we can help you to create memories that will undoubtedly last a lifetime!
We're situated in beautiful Knudson Cove in Ketchikan, Alaska which we're convinced is one of the most beautiful corners of the world! All you have to do is get here and we'll take care of every facet of your fishing adventure.
Ketchikan has some of the best halibut fishing in the world and our owner Brian Ringeisen has more than 30 years of guiding experience helping you to not only navigate the sometimes-challenging Alaskan waters, but to also actually catch some beautiful halibut!
Halibut Fishing Charter In Alaska
At Anglers we want to meet the needs of our clients at all times. This means crafting a fishing charter that is not only within your budget but also is exactly what you're looking for in terms of a trip that you'll remember for a long time. Not only will you get exposed to some of the world's most amazing fish here in Southeast Alaska, but you'll also be able to interact with local wildlife and see truly breathtaking sights. Even though we've been here for decades we never take for granted all there is to see when out on the open water here in Alaska.
All Our Halibut Fishing Charters Include Everything You Need
Each of our fishing charters includes literally everything you'll need to have a truly remarkable experience. These amenities include:
• Unlimited fishing instruction and guidance during your time out on the water
• Bait, lures, and any other tackle you may need
• Rain gear
• Snacks and drinks
• A private bathroom as well as a heated cabin
As you can see it's our goal to make the entire experience with Anglers as enjoyable and stress-free as possible. We want you to know that once you get here your worries are over and you can truly focus on enjoying the wonderful sights that abound here in Ketchikan!
To learn more about booking a halibut charter with Brian from Anglers Adventures & Outfitters, give us a call today at (907) 254-0880 or email Brian directly at brian@anglers-adventures.com