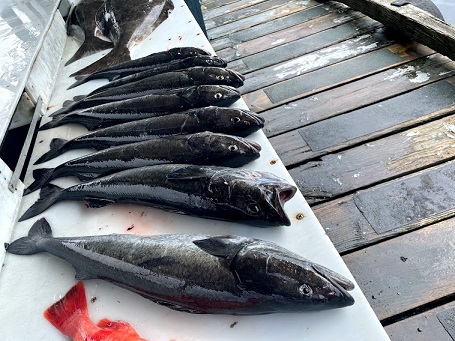 Ketchikan, Alaska is one of the best places to fish for black cod and halibut. If you are planning to visit this area at some point in the future and you love fishing, you should strongly consider a multi-day black cod and halibut fishing experience that will provide you with memories that will last a lifetime. Serving the Ketchikan, AK area, there's no better team to handle this multi-day excursion than our team at Anglers Adventures & Outfitters.
Deep Water Fishing Adventures
To find the biggest and best black cod and halibut in the region, you've got to find the deep waters. In fact, you need to be in 700 feet deep of water to find the best black cod and halibut. Thanks to our 28' F/V Sierra Dawn that has a new pair of 225hp Honda engines, our captain, Brian Ringeisen, will get you to these deep waters safely and quickly. By choosing a multi-day black cod and halibut fishing experience with our team, you'll gain access to an experienced local captain that knows all of the great fishing spots and a comfortable fishing boat that will help make this adventure a memorable one.
Private Oceanside Lodging
You may be curious about where you will stay after you spend the day out fishing. Typically, our clients stay in our private oceanside lodge for 5 to 6 nights so that they can make sure to get some good fishing in during the visit. This beautiful and provide oceanside lodge was just built in 2019 and provides you with all of the amenities that you'll need to feel comfortable in our lodge. With 3 bedrooms, 2 baths and a large deck with the ocean view, this lodge can sleep families of all sizes. This lodge is just minutes from where our charter boat is docked, so you'll be able to get back on the boat quickly in the morning. If you want a day off from fishing, you can plan a day to go into town when the waters may be rough.
Fish Processing
It always seems like the 5 to 6 day black cod and halibut fishing experience goes by so quickly. The goal is for you to catch plenty of fish that you can take home with you. Our lodge packages include fish processing. We will clean, vacuum seal, freeze and box up all of the black cod and halibut that you catch during your excursion so that it can make it back home easily.
Are you ready to book your multi-day black cod and halibut fishing experience in Ketchikan, AK? If so, reach out to our dedicated staff at Anglers Adventures & Outfitters today by calling (907) 254-0880 or by emailing brian@anglers-adventures.com.