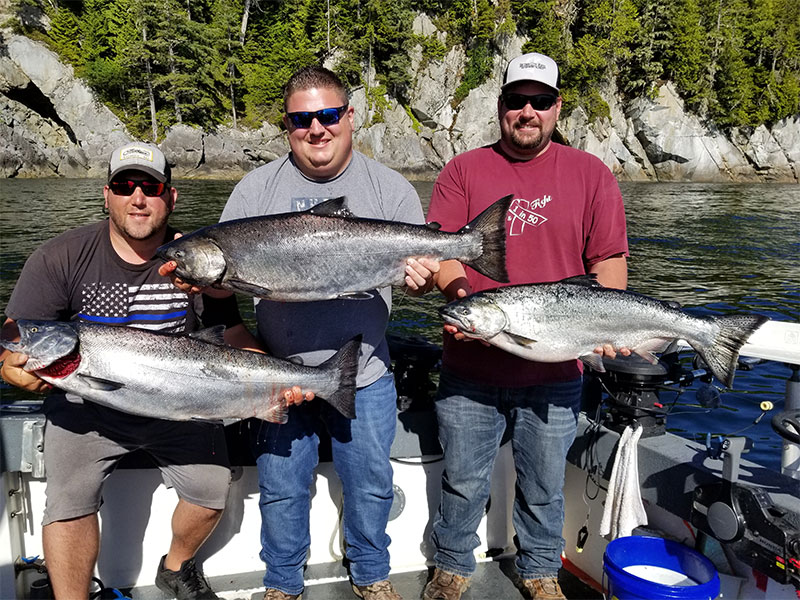 Get ready for one of the most unforgettable adventures of your life when you set out on the best multiple day fishing charter in beautiful Ketchikan, Alaska with Anglers Adventures & Outfitters! Both experienced and novice fishermen and women can expect to be wowed by the incredible beauty of forested mountain scenery and local wildlife. Plan on an abundance of fish with the guidance of Captain Brian. After 26 years of fishing guide experience on the Southeast Alaska waters, Captain Brian knows all of the local fishing spots where people of all ages can catch their limit of big and tasty salmon, halibut, rockfish or cod. Charter a multi-day fishing trip aboard the impressive 28 ft. Sierra Dawn.
Fish Species Caught in Ketchikan, AK
King Salmon (aka Chinook Salmon)
Silver Salmon (aka Coho Salmon)
Pink Salmon (aka Humpback Salmon)
Halibut
Cod
Rockfish
Exciting Trophy Sport Fishing Experience
If anyone ever tells you that fishing is boring, you can prove them wrong by sharing the exciting details and photos from your sport fishing charter with Anglers Adventures & Outfitters. Show them your trophy sized fish or share a fresh caught salmon dinner that will make them want to book their own multiple day fishing trip to Ketchikan, AK.
Top Local Guide Ketchikan, Alaska
What could be more enjoyable than an authentic Alaskan fishing boat guided by a hard working boat captain? The Sierra Dawn is a 28 foot Bayline Trophy with comfortable accommodations for the best multiple day fishing excursions in Ketchikan AK. Captain Brian makes every effort to provide a terrific experience full of excitement and a ton of fish for individuals age 10 years to 60 years.
Heated enclosed cabin
Accommodates party of 4 to 6 comfortably
Private bathroom
28 ft. Bayline Trophy boat
New electronics
GPS, depth sounders, rod holders, electric downriggers
Captain Brian is a Coast Guard licensed Captain who is fully licensed, insured and certified in CPR and First Aid
Best Multiple Day Ketchikan Fishing Charter
Get away from everything and experience nature at its finest while sport fishing for trophy-sized fish in gorgeous Ketchikan, AK. Reserve a half-day, full day or multi-day fishing trip with Anglers Adventures and Outfitters. Arrive with an open mind and sense of adventure and we will fulfill your dreams with the best multiple day Ketchikan fishing trip anyone has ever had? Captain Brian is a hard working, dedicated, Coast Guard licensed Captain and fishing guide with over 25 years experience. If you want to catch the biggest fish in Ketchikan, the charter to be on is Anglers Adventures & Outfitters. Just ask the locals…Captian Brian is your man.
Make reservations for your unforgettable Ketchikan, AK multiple day, authentic Alaskan fishing trip with Brian at Anglers Adventures & Outfitters! Call: (907) 254-0880 • Email: brian@anglers-adventures.com.