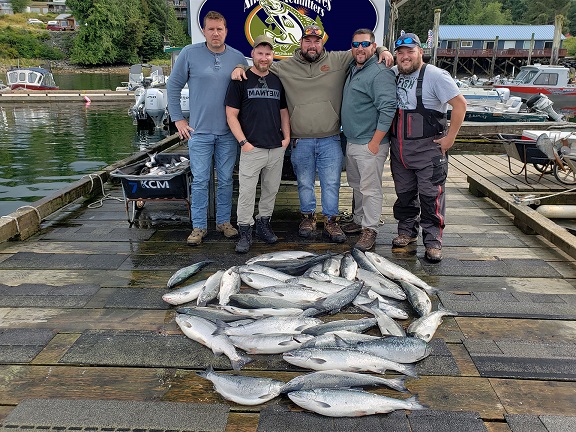 Ketchikan, Alaska, is a paradise for fishing enthusiasts, offering some of the most incredible and diverse fishing experiences in the world. For those seeking the thrill of reeling in salmon, halibut, or other prized catches in the breathtaking waters of Alaska, Anglers Adventures stands out as a premier provider of fishing charters in Ketchikan. In this blog post, we'll delve into the world of fishing charters and why Anglers Adventures provides an unforgettable fishing experience.
Expert Fishing Guide With Local Knowledge
One of the key aspects that sets Anglers Adventures apart is the expertise and local knowledge of their guides. Their experienced captains are well-versed in the waters surrounding Ketchikan, knowing the prime fishing spots and the behavior of the different fish species. This local knowledge increases your chances of a successful and fulfilling fishing adventure.
Customized Charters: Anglers Adventures offers a range of fishing charters designed to cater to various preferences and skill levels. Whether you're a novice or an experienced angler, there's a charter suited for you. From half-day trips to full-day excursions, you can tailor your experience based on your schedule and fishing interests.
Quality Equipment and Boats: The quality of the equipment and boats provided by Anglers Adventures is top-notch. From high-grade fishing gear to well-maintained boats, you'll have access to the best tools and vessels to ensure a smooth and productive fishing experience.
Targeted Species: Ketchikan's waters are home to a variety of fish species, and Anglers Adventures specializes in targeting the most sought-after catches in the region, including king salmon, coho salmon, halibut, lingcod, and rockfish. Whether you have a specific species in mind or want a mixed catch, their charters can accommodate your preferences.
Scenic Views and Wildlife Encounters: Apart from the thrill of fishing, Ketchikan's surrounding landscapes are awe-inspiring. Anglers Adventures' fishing charters offer the chance to witness stunning scenery, encounter wildlife, and immerse yourself in the natural beauty of the Alaskan wilderness while you fish.
Educational Experience: Anglers Adventures' guides don't just help you catch fish; they also provide insights into fishing techniques, local marine life, and the rich history of Ketchikan, offering an educational and immersive experience for guests.
Multi-day Customizable Fishing Charter Ketchikan
Fishing charters with Anglers Adventures in Ketchikan, AK, promise an unforgettable and enriching fishing experience. With their expert guidance, diverse charters, quality equipment, and a passion for creating memorable moments, they stand out as a leading choice for anyone seeking an exceptional fishing adventure in the magnificent waters of Alaska. Whether you're an avid angler or a novice, these fishing charters will undoubtedly leave you with remarkable memories. Contact Anglers Adventures today to book your next fishing expedition in Ketchikan, AK, and get ready for the adventure of a lifetime!