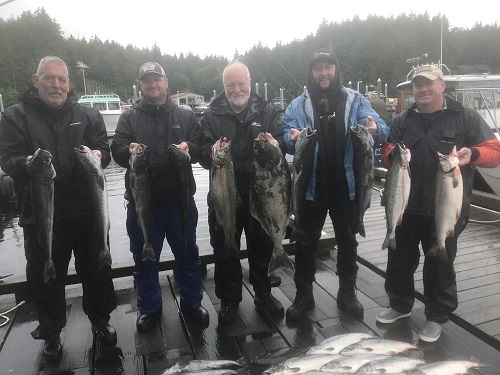 Are you thinking ahead about a vacation for you and your family or friends in 2024? Now is the perfect time to plan your Alaska Fishing Charter trip for the coming year. Anglers Adventures & Outfitters is booked for the rest of 2023, but we still have some openings in 2024. We offer private, guided full day and multi day charters in the beautiful waters of Ketchikan, Alaska. Whether you are new to fishing or have a lot of experience, our charters are perfect for all types of groups and can be customized to meet your specific needs.
Here are just some of the things that booking with Anglers Adventures & Outfitters includes:
● Comfortable boat with heated enclosed cabin and private bathroom
● Captain with more than three decades of guiding experience in the southeast Alaska waters
● Salmon, halibut, rockfish, gray and black cod focused fishing
● Your total per person price includes all of the gear you will need on your trip including bait, tackle, lures and even raingear.
● We can also help with your fishing license, stamps and even custom fishing processing and shipping (for an extra fee).
● Lodging packages available
● Set sail out of Knudsen Cove, which is just a short drive from Ketchikan and offers a quieter and less congested journey
● Gorgeous scenery and wildlife watching which can be appealing for those on your trip who are not as interested in fishing.
● Competitive pricing and our promise of a great experience!
Many of our guests come back for our fishing charters year after year. Brian Ringeisen, the owner and operator of Anglers Adventures & Outfitters, is local to the southeast Alaska area and knows exactly the areas to highlight based on the specific interests of the group he's working with. If you prefer to fish for halibut, he can make that happen, but if you prefer to try and see area wildlife (including whale watching), he might take you somewhere slightly different in the Alaska waters. You simply will not get a better guide than Brian to make your vision for an Alaska charter tour a reality.
Book Your 2024 Alaskan Fishing Excursion
So, 2024 is right around the corner and now is a great time to book your Alaskan Charter Fishing trip with Anglers Adventures & Outfitters. Call us at 907-254-0880 to see if your dates are available or email Brian anytime at brian@anglers-adventures.com to ask questions and get more information.