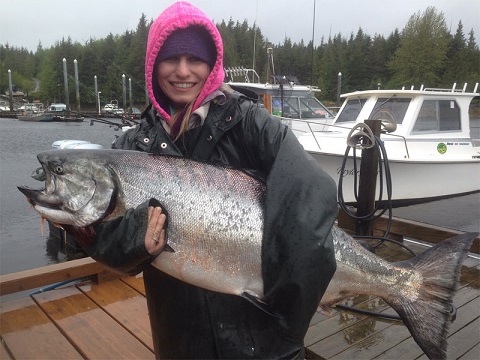 For those seeking an unparalleled angling experience in the stunning wilderness of Ketchikan, Alaska, Anglers Adventures offers an opportunity that promises excitement, adventure, and unforgettable memories. Today, we're shining a spotlight on one of their premier services that deserves a little extra promotion: Alaskan Salmon Fishing.
Dream Salmon Fishing Experience Ketchikan
Nestled along the pristine waters of the Inside Passage, Ketchikan, Alaska, is renowned as one of the world's premier salmon fishing destinations. Anglers Adventures takes full advantage of this remarkable setting to offer an exceptional salmon fishing experience that stands out in many ways:
● Expert Guidance: When you choose Anglers Adventures for your salmon fishing excursion, you're not just booking a trip; you're gaining access to a team of seasoned, passionate, and knowledgeable guides. These experts are well-versed in the region's unique salmon habitats, migration patterns, and fishing techniques. They'll not only take you to the best spots but also provide tips and tricks to improve your catch.
● Abundance of Salmon Species: Ketchikan boasts a rich diversity of salmon species, including the iconic Chinook (King), Coho (Silver), Sockeye (Red), Chum (Dog), and Pink (Humpy) salmon. Anglers Adventures caters to anglers of all skill levels, ensuring you have the opportunity to target the salmon species you desire.
● Top-Notch Equipment: To make your salmon fishing adventure as enjoyable as possible, Anglers Adventures provides high-quality, well-maintained fishing gear and equipment. You can expect to have access to the best rods, reels, and tackle to maximize your chances of landing that trophy catch.
● Customized Experiences: Anglers Adventures understands that every angler is unique, and they tailor each fishing trip to meet your preferences. Whether you're looking for a full-day expedition or a multi-day adventure, they can accommodate your needs.
● Breathtaking Scenery: Beyond the thrill of the catch, fishing in Ketchikan offers an opportunity to immerse yourself in the awe-inspiring Alaskan wilderness. The towering mountains, dense forests, and pristine waters create a backdrop that's nothing short of breathtaking.
● Sustainable Practices: Anglers Adventures is committed to preserving the natural beauty and vitality of the Alaskan ecosystem. They emphasize catch-and-release practices for many salmon species to help maintain healthy populations for future generations.
● Culinary Delight: After a successful day of salmon fishing, your catch can be processed and shipped home for a delectable meal you won't soon forget. Fresh Alaskan salmon is a culinary delight that will remind you of your incredible adventure.
If you're a passionate angler or an adventurer seeking the thrill of salmon fishing in the pristine wilderness of Ketchikan, Alaska, Anglers Adventures is your ideal partner. Their Alaskan Salmon Fishing experience offers a unique blend of expert guidance, abundant salmon species, top-notch equipment, and breathtaking scenery, all while prioritizing sustainability and personalized service.
Once In A Lifetime Salmon Fishing Trip
Make your angling dreams a reality with Anglers Adventures and create memories that will last a lifetime. Whether you're a seasoned angler or a novice, their team is dedicated to providing you with an unforgettable salmon fishing experience in the heart of Alaska's natural splendor. Don't miss out on this extraordinary opportunity – book your salmon fishing adventure with Anglers Adventures today!