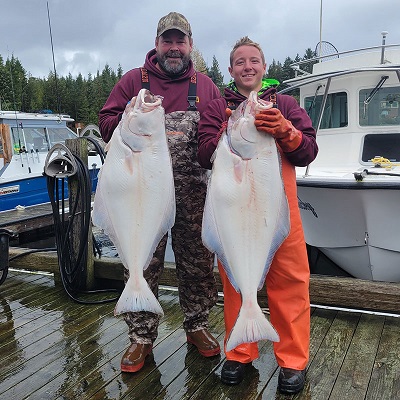 Have you dreamed of fishing in Alaska for years? Is it a bucket list item for you? Well, there's no better time than now to book your top rated Alaskan sportfishing adventure. Our team at Anglers Adventures & Outfitters offers the best sportfishing experience in Ketchikan, AK. No matter if you just picked up fishing or you've got decades of experience, you'll have a ball fishing some of the best fishing grounds in Alaska.
By teaming up with Anglers Adventures & Outfitters, you'll gain access to private, guided fishing charters that provide you with some of the best fishing you could imagine. We are locally owned and operated by our respected Captain, Brian Ringeisen. Brain knows the ends and outs of these waters and can lead you to some of the greatest fish you've ever laid eyes on. Remember…you pick the type of fish you want to fish.  These guided charters are ideal for new fisherman, adults, children and even families. Choose from one of the following guided fishing charter options:
● Full Day Charter
● Multi-Day Charter
● Custom Charter
Type Of Fish We Target
During your guided fishing charter, Brian will lead you into fishing waters that are full of a wide variety of fish. Using our F/V Sierra Dawn 28' Bayliner Trophy boat with a pair of 225hp Honda's, Brian will navigate your charter away from the busy waterways and into some of his favorite Ketchikan sportfishing locations. Here, you will have your chance at catching the following fish that we target:
● Salmon
● Halibut
● Rockfish
● Black & Grey Cod
Beautiful Wildlife Ketchikan Alaska
While on your sportfishing adventure, you may come into contact with beautiful wildlife that call this part of Alaska home. During past fishing charters, we have come across plenty of sea lions, humpback whales and even killer whales! So, our guided charters are even fun for those that don't want to fish as they can focus on taking pictures or videos of the gorgeous views and beautiful wildlife in and around Ketchikan, AK.
At Anglers Adventures & Outfitters, our passion is being able to provide memorable Alaskan sportfishing adventures that will last a lifetime. If you and your friends or family are looking for a unique fishing excursion where you'll have the chance to fish some of the best waters in Alaska, our captain, Brian, has you covered. To schedule your Alaskan sportfishing adventure in the future, give us a call today at (907) 254-0880 or email brian@anglers-adventures.com.