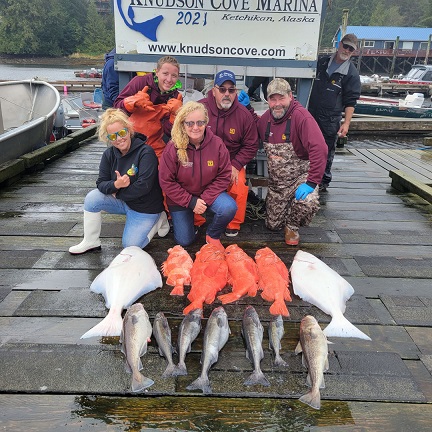 Southeast Alaska is one of the world's most stunning regions. Ketchikan provides an ideal place to experience all that Alaska has to offer – both land and sea wildlife alike! Anglers Adventures and Outfitters strives to make every Alaska excursion an unforgettable one for our clients with guided whale and other wildlife watching trips as well as chartered fishing trips in some of Alaska's finest fishing waters. Anglers Adventures and Outfitters provides the ideal way to see Alaska through their lenses!
When you book with us, you have complete control over your charter – from photographing sea lions and chasing whales, to enjoying memorable and satisfying experiences for everyone onboard!
Multi-Day Fishing Charters
Our multi day fishing trips offer a specific target fish. Popular choices depend on the season, with fish such as salmon, halibut and rockfish being some of the most sought-after targets. Fishing in Alaska can be an exhilarating experience and this region boasts some fantastic fishing spots. Here, you'll find everything you need – gear and bait, tackle, and lures, even snacks and beverages to keep you energized while waiting for that big fish! Brian provides professional guidance and instruction; many of our guests return to his fishing knowledge and expertise time after time.
Excursions For Wildlife Watching
At Excursions for Wildlife Watching, we offer fishing charters and excursions. Additionally, our sight-seeing tours are a highlight. From our boat, you can witness some of the most impressive marine life: sea lions swimming underneath us and killer whales competing to catch King Salmon. Anglers Adventures & Outfitters is the premier place to whale watch if you've always wanted to. We strive to make your experience with us an unforgettable one, providing comfortable boats that can handle rough waters without being too frightening for you. Come experience all that Ketchikan has to offer while getting up close and personal with nature's wonders! Anglers Adventures and Outfitters will take you on an exciting trip to Knudson Cove in Alaska. Not only is the cove close enough for fishing and sightseeing, but its distance from downtown keeps the waterways clear and wildlife active.
Expert Local Guide
Safety should always come first when boarding any vessel on Alaskan waters. Brian Ringeisen is your go-to Captain and professional Angler; safety always comes first in his eyes. A former US Coast Guard member, Brian is CPR and First Aid certified with in-depth knowledge of Alaska's waters as well as skills in navigating them efficiently. Plus, his enthusiasm for making sure his passengers have an enjoyable journey never ceases!
Anglers Adventures and Outfitters offers you a closer, more personal view of Southeast Alaskan waters. Contact us at 907-254-0880 for more information.