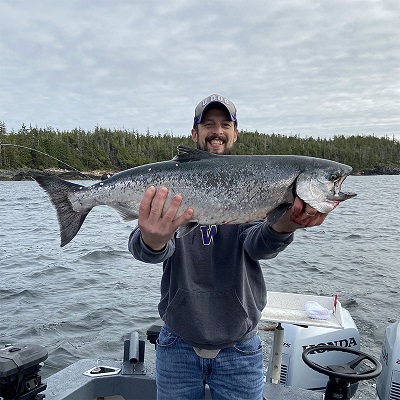 Nestled amidst the untamed beauty of Alaska, Ketchikan is a destination that entices nature enthusiasts and adventure seekers from around the globe. Known as the "Salmon Capital of the World," this charming coastal town offers a plethora of outdoor activities for visitors to indulge in. Among the various options, Anglers Adventures stands out as the premier choice for those seeking an unforgettable fishing experience in the heart of Alaska's wilderness.
A Fishing Paradise
With its pristine rivers, glimmering lakes, and abundant marine life, Ketchikan boasts an unparalleled fishing paradise. Anglers Adventures, helmed by the experienced and passionate Captain Brian, promises an authentic and thrilling fishing expedition. Whether you're a seasoned angler or a beginner, their team caters to all skill levels and ensures an adventure tailored to your preferences.
Unmatched Expert Captain
Captain Brian and his knowledgeable crew have spent countless hours navigating the waters of Ketchikan, honing their skills, and deepening their understanding of the local ecosystem. Their expertise extends beyond fishing techniques to encompass the rich history, wildlife, and conservation efforts of the area. Engaging with Anglers Adventures means not only an incredible fishing trip but also an educational experience that will foster a deeper appreciation for Alaska's natural wonders.
A Variety Of Fishing Options
Anglers Adventures offers a wide range of fishing experiences to cater to diverse interests. From salmon fishing to halibut fishing, you can embark on a thrilling journey to catch these prized species. Feel the adrenaline rush as you reel in a colossal king salmon or the sheer joy of landing a massive halibut. With Anglers Adventures, you'll have the opportunity to create lifelong memories and capture epic fishing tales.
Your comfort and convenience are of utmost importance during your fishing adventure. Anglers Adventures provides top-notch equipment, including high-quality fishing gear and comfortable boats equipped with modern amenities. Their attention to detail ensures a seamless and enjoyable experience, allowing you to focus solely on the thrill of the catch.
Spectacular Scenery And Wildlife As You Fish
While the fishing experience itself is remarkable, Ketchikan's breathtaking scenery and wildlife encounters take it to another level. Surrounded by lush rainforests, towering mountains, and crystal-clear waters, every moment spent on the water offers awe-inspiring vistas. Keep your eyes peeled for bald eagles soaring overhead, playful seals, and even majestic whales making appearances during your fishing expedition.
Anglers Adventures in Ketchikan, AK, epitomizes the epitome of a dream fishing getaway. With their exceptional expertise, commitment to customer satisfaction, and the unparalleled natural beauty of the region, every moment spent with Anglers Adventures is sure to be unforgettable. Whether you're an avid angler or simply someone seeking an extraordinary outdoor adventure, Ketchikan and Anglers Adventures offer an idyllic escape into the wilds of Alaska. Prepare to cast your line, breathe in the fresh mountain air, and embark on a journey of a lifetime.