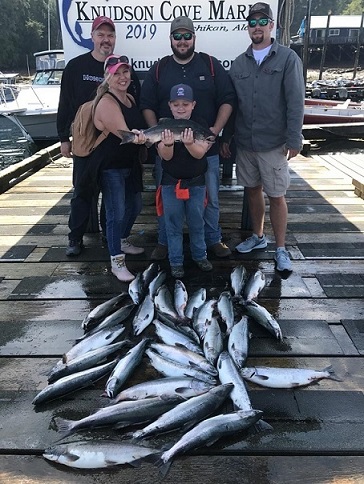 Ketchikan, Alaska's "Salmon Capital of the World," offers outdoor enthusiasts an incredible setting for an unforgettable summer fishing and wildlife adventure. Nestled amid towering mountains, lush rainforests, and crystal-clear waters, this town provides the ideal fishing and wildlife experience – making Ketchikan an ideal location for anglers as well as nature enthusiasts. In this blog post we'll walk through essential steps for planning an exciting summer fishing and wildlife excursion with Anglers Adventures.
Timing Your Alaskan Fishing Trip Properly
Timing is of utmost importance when traveling to Ketchikan. June through September offer the ideal fishing opportunities, when Chinook, Coho and Pink salmon migrate through the waters providing exceptional angling opportunities. Furthermore, wildlife sightings of bald eagles, black bears and humpback whales become more frequent during these months.
Selecting An Appropriate Fishing Charter
To get the most from your fishing adventure, partnering with an established fishing charter like Anglers Adventures is vital. Their experienced guides possess intimate knowledge of local waters to guarantee a rewarding fishing adventure. From half-day to multi-day excursions, Anglers Adventures provides tailored packages designed specifically to your preferences and skill level.
All Inclusive Fishing Charter In Ketchikan
Prior to setting out on your journey, ensure you have the appropriate gear. Anglers Adventures can supply top-quality fishing equipment, but bringing along your preferred rod, reel and tackle is always recommended. Also don't forget clothing layers, rain gear, polarized sunglasses, and sunscreen so you're comfortable throughout your adventure.
Exploring Wildlife Hotspots
Beyond reeling in trophy fish, Ketchikan offers incredible wildlife to be discovered. Check out Misty Fjords National Monument for stunning fjords, waterfalls, and diverse fauna – embarking on wildlife tours or kayak adventures can lead to up close views of seals, otters, orcas or even pods of majestic orcas!
Engaging Local Culture In Ketchikan, AK
While visiting Ketchikan, immerse yourself in local culture by exploring its vibrant downtown area. Check out the Tongass Historical Museum to gain more insight into its rich past or stroll along Creek Street for a pleasant boardwalk lined with shops and galleries. Don't miss the opportunity to taste delicious fresh seafood dishes served at local eateries showcasing regional flavors!
As part of any summer adventure, it is crucial to prioritize nature conservation. Practice responsible fishing methods (catch-and-release), comply with local regulations, respect wildlife and its habitats by maintaining an appropriate distance, and practice sustainable tourism so we can preserve Ketchikan for future generations.
Planning a summer fishing and wildlife excursion to Ketchikan, Alaska promises an extraordinary journey filled with breathtaking landscapes, abundant wildlife, and thrilling angling opportunities. By selecting an appropriate time and partner charter service provider as well as immersing yourself in local culture you will create lasting memories to carry home with you. Prepare yourself with gear, excitement and sense of adventure and embark on this extraordinary adventure with Anglers Adventures through Ketchikan's inspiring wilderness!