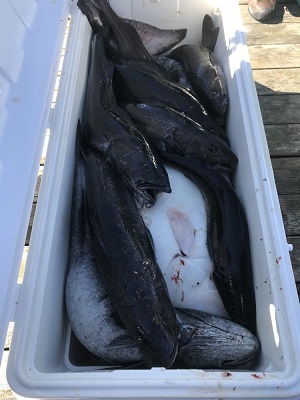 When it comes to planning a thrilling fishing adventure, location and convenience are key factors to consider. If you're looking to embark on an unforgettable angling experience while enjoying the comforts of oceanside lodging, look no further than Anglers Adventures in Ketchikan, AK. With their exceptional onsite accommodations, this renowned fishing charter service goes above and beyond to provide an all-inclusive angler's getaway like no other.
Oceanside lodging at Anglers Adventures: At Anglers Adventures, they understand that the perfect fishing trip requires not only exceptional fishing opportunities but also a comfortable place to rest and rejuvenate. Their onsite oceanside lodging facilities have been meticulously designed to cater to the needs and desires of avid anglers.
Breathtaking scenic views: Imagine waking up to the mesmerizing sights and sounds of the Pacific Ocean right outside your window. Anglers Adventures' oceanside lodging offers picturesque panoramic views, allowing you to immerse yourself in the beauty of nature from the moment you open your eyes.
Convenient proximity to fishing locations: One of the greatest advantages of staying at Anglers Adventures' onsite lodging is the proximity to the prime fishing spots. You'll be just steps away from the docks, ready to embark on your fishing excursion each day. This eliminates the hassle of long commutes, ensuring you maximize your time on the water.
Comfortable and cozy accommodations: Anglers Adventures takes pride in providing guests with accommodations that prioritize comfort and relaxation. Their spacious and well-appointed rooms are equipped with modern amenities to ensure a pleasant stay. From plush beds and private bathrooms to Wi-Fi access and entertainment options, every detail has been carefully considered to make you feel right at home.
Access to a professional guide: When you choose Anglers Adventures, you gain access to a team of experienced and knowledgeable fishing guides who will enhance your angling experience. From providing top-quality gear to sharing their expertise and tips, these guides are dedicated to ensuring you have the best chance of reeling in the catch of a lifetime.
If you're seeking an angler's paradise that combines world-class fishing opportunities with exceptional onsite oceanside lodging, Anglers Adventures in Ketchikan, AK, is the perfect destination for you. With their convenient location, breathtaking views, comfortable accommodations, and access to expert guides, they have everything you need for an unforgettable fishing getaway. Book your stay at Anglers Adventures today and get ready to create memories that will last a lifetime.