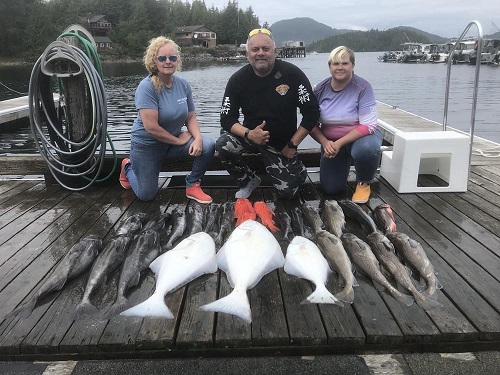 Are you ready to take your fishing experience to the next level? Look no further than Anglers Adventures in the picturesque town of Ketchikan, Alaska. Known as the "Salmon Capital of the World," Ketchikan offers an abundance of pristine waters, breathtaking landscapes, and an unmatched fishing adventure. Get ready to immerse yourself in the natural beauty of Alaska as you embark on a multi-day fishing expedition with Anglers Adventures.
A Personalized Fishing Adventure
Anglers Adventures takes pride in providing a personalized experience for every angler. With their knowledgeable and experienced guides, you'll receive expert assistance tailored to your skill level and fishing preferences. Whether you're a seasoned angler or a beginner, their team will ensure you have an unforgettable adventure.
Unleash The Trophy Fish
Imagine battling against the legendary salmon species in Alaska's rich waters. With Anglers Adventures, you'll have the opportunity to catch the iconic King Salmon, prized for their impressive size and strength. Feel the adrenaline rush as you reel in these magnificent creatures. Additionally, you can target other salmon species such as Coho and Pink Salmon, along with halibut, lingcod, and rockfish.
Explore The Vast Wilderness
Ketchikan is nestled amidst the breathtaking beauty of the Tongass National Forest, the largest national forest in the United States. During your multi-day expedition, not only will you experience world-class fishing, but you'll also have the chance to witness Alaska's incredible wildlife. Keep your eyes peeled for bald eagles soaring above, playful sea otters, curious seals, and even majestic whales breaching the surface.
All-Inclusive Oceanside Lodging And Fishing Packages
Anglers Adventures offers all-inclusive packages, taking care of all the logistics so you can focus on enjoying your fishing adventure. Their multi-day expeditions include accommodations, transportation, meals, fishing gear, and licenses. You'll stay in comfortable waterfront cabins, providing a cozy retreat after a thrilling day on the water.
Create Lifelong Memories
A multi-day fishing expedition with Anglers Adventures is more than just a fishing trip; it's an opportunity to create lasting memories. Share stories around the campfire, bond with fellow anglers, and relish the sense of camaraderie that comes with embarking on an adventure together. The stunning landscapes and thrilling fishing encounters will leave an indelible mark on your soul.
If you're seeking an extraordinary fishing adventure, look no further than Anglers Adventures in Ketchikan, Alaska. With their personalized approach, abundant fish species, breathtaking scenery, and all-inclusive packages, they provide the ultimate multi-day fishing expedition. Immerse yourself in Alaska's natural wonders and make memories that will last a lifetime. Get ready to cast your line and reel in the catch of a lifetime with Anglers Adventures. Book your trip today and embark on an unforgettable journey!