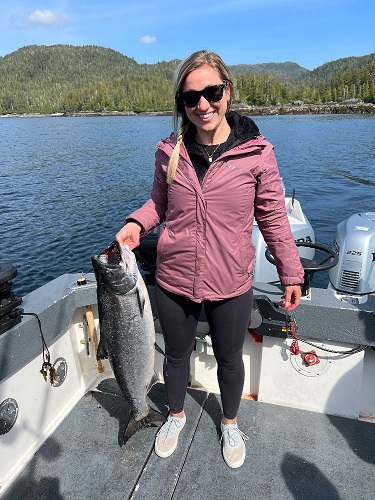 If you are someone who truly loves fishing, you probably do not need the enticements associated with the creature comforts of our boat or our lodge. For you, it may be enticing enough to consider the possibility of fishing in the waters off Ketchikan, Alaska, and having the chance to catch some salmon or halibut. People who love to fish tend to focus on fishing. No doubt, you may also be enticed by the unmatched beauty of this part of the country, but the act of fishing is likely to always be paramount with you. Anglers Adventures & Outfitters, however, wants to appeal to a wider audience, which may include friends and loved ones of people who love to fish for the sake of fishing.
Ketchikan Alaska Guided Fishing Trip
So, if you are not someone who loves to fish, but who enjoys it from time to time, Anglers Adventures & Outfitters does, in fact, have many other things that make time spent on the waters of Ketchikan, Alaska, worth the time and energy. The first aspect of fishing in Alaska that appeals to such people is that our fishing takes place in Alaska! Alaska is known as "The Last Frontier" because it remains wild and expansive. Nowhere are those qualities more evident than from the point of view offered by a fishing excursion on The Sierra Dawn, our fishing boat. The wildlife and scenery you will be able to see are simply breathtaking.
The Sierra Dawn is captained by Brian Ringeissen, a maritime expert and avid fisherman himself. When you schedule a fishing trip with Anglers Adventures & Outfitters, you can rest assured that your captain knows the waters off Ketchikan like the back of his hand, which allows our clients to focus on the beauty of the ocean and the starkly beautiful Alaskan coastline. Fishing for you may not be characterized by a desire to catch a certain kind of fish, or a fish of a certain size. It may be characterized as a combination of enjoying fishing while also keeping an eye out for a breaching whale or playful seals.
Alaska Vacation Ideas
For you, there may also be some appeal to knowing that, if you want to take a break from fishing for a while, you can spend some time in your own cabin, recalibrating and re-energizing. The bottom line is that Anglers Adventures & Outfitters is suitable for just about anyone who enjoys fishing, the outdoors, or a nice Alaskan vacation. For more information or to schedule an excursion, call us at (907) 254-0880.