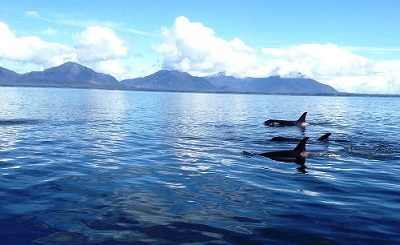 Do you love wildlife? Are you constantly checking the latest documentary on some of Alaska's amazing animals? If so, you may have investigated booking a whale watching charter in Alaska. At Anglers Adventures & Outfitters, our whale watching charters are some of our most popular adventures for our guests. If you've ever thought about getting out on the open Alaskan waters to see some of the fantastic whales in and around Ketchikan, you've come to the right place!
Small Group Whale Watching Charter Ketchikan Alaska
At Anglers, it's our goal to make every charter a memorable adventure, and that's no different with our whale watching charters in Ketchikan, Alaska. Our Captain Brian has been guiding whale charters for several decades, but the sight of some of the beautiful wildlife in Knudson Cove truly never gets old!
Just like our fishing charters are looking for herring, salmon, and krill, so are the amazing wildlife that makes the waters of Knudson Cove their home. When you go out on a whale watching expedition, you'll be on the lookout for killer whales, humpback whales, sea lions, and other wildlife that will make you think you're in a National Geographic documentary. With Brian's keen experience, he has a way of finding the best spots to find the amazing wildlife of Knudson Cove near Ketchikan.
Get Your Camera Ready When You Head Out With Anglers
Your only job when you embark on a whale watching charter with Brian and Anglers is to have your camera always ready to catch some of the fantastic shots you're sure to experience while out on our 28' vessel!
When you book with our whale watching guide Brian know that you'll be riding in style and comfort thanks to our amazing 28' boat. Our boat features two 225hp Honda motors that allow you to easily get around Knudson Cove to see all the breathtaking wildlife that is located throughout Alaska! In addition, you'll have access to a heated enclosed cabin and a private bathroom that will help your next whale charter experience be as memorable and comfortable as possible!
Detach from the Screens and Live Life Through the Amazing Lens of Nature! We all spend too much time behind a screen, whether on our computer or smartphone. At Anglers Adventures & Outfitters, it's our mission to help our guests detach from technology and take in all that the Alaskan waters have to showcase in terms of unforgettable sights and experiences. To book your next whale chartering adventure, don't hesitate to reach out to Brian today at (907) 254-0880 or via email at brian@anglers-adventures.com.