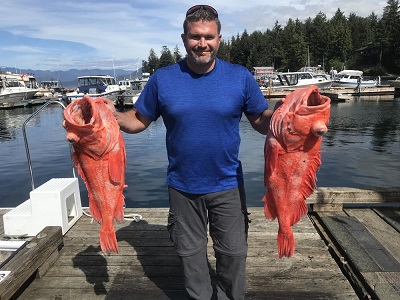 Are you looking for an exciting way to see Ketchikan on the water? Anglers Adventures and Outfitters offers guided fishing trips to both novices and experts. Anglers Adventures and Outfitters is the place to go if you're looking for guided fishing in Ketchikan.
Ketchikan is the best place to go if Alaskan fishing tops your bucket list. We are in Southeast Alaska and are known as the Salmon Capital of the World. Our fishing opportunities, along with the stunning views, make us a must-visit destination. You can fully enjoy the experience of fishing on the water with a multi-day or one-day charter. You can enjoy breathtaking views, wildlife, and a lot of fishing during your 8–10-hour day on the water. Anglers Adventures and Outfitters can help you experience all that Ketchikan offers.
Catching the species: Anglers Adventures and Outfitters will make your goals our goals when you book a guided trip. Every fishing trip is customized to the group's preferences. Your goals and priorities become ours immediately, whether you want to spend a day on the Southeast Alaska Sea searching for Halibut, or if you prefer a half-day reeling in Salmon. Alaskan waters are unlike anywhere else in the world. No matter the type of fish that you're after, it is a unique experience. This is the best opportunity to get up close with wildlife and our beautiful environment. Anglers Adventures and Outfitters has something for everyone, whether you have never caught a single fish before or are a professional.
What do you need to bring? Our full-day charter has many advantages, including ease of entry. You don't need to bring anything! You will find everything you need for a great day on the water. The F/V Sierra Dawn is a 28′ Bayliner Trophy Boat that comes with all the comforts you could possibly need. You will have everything you need for the day, including a heated cabin and a private bathroom. All the necessary gear, including rainwear and bait, tackle, and lures, is provided. There will be plenty of refreshments and snacks on board, so you can keep yourself nourished while reeling in your dream catch.
Experienced Captain and tour guide: You have the best tour guide and Captain in Alaska who can help you with whatever you need. Captain Brian Ringeisen is a 26-year veteran guide who can take you to the most popular fishing spots in Alaska. He will give you as much advice or instruction as you require.
What are you still waiting for? Book your full-day Alaskan Fishing Charter today. Contact us for more information on our charters or services. Call Anglers Adventures and Outfitters today at (907) 254-0880 or email brian@anglers-adventures.com.