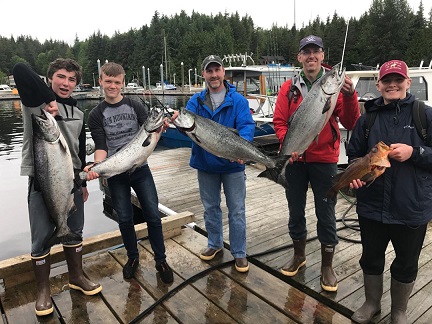 Visiting Alaska in spring may seem confusing at first. Focusing on Southeast Alaska as the bridge between the Pacific Northwest region and Great White North might alter things considerably; thus, altering your game plan. For travelers who prefer authentic experiences over cruise ship crowds and lower costs during shoulder season travel, spring may offer more appeal than winter vacation. Enjoy more authentic adventures while benefiting from lower costs during off-peak months. Alaska in spring can offer something special if you enjoy rugged wilderness environments and don't mind dressing warmly to meet locals for coffee breaks. I particularly recommend Ketchikan, located along the southern edge of Tongass National Forest; its far southeast location allows it to remain part of Alaska while remaining accessible.
Accommodations: Before coming, it is wise to secure accommodation. Ketchikan does not contain Hiltons, resorts, or other large hotels which makes for an advantage; Alaska Traveler Accommodations is an excellent resource to begin searching for vacation rental properties that fit your criteria. If fishing for steelhead in the early season or late salmon is your goal, then consider renting something equipped with a full kitchen.
Fishing excursions: Ketchikan is an ideal place for fishermen. There are dozens of fishing tours offered throughout the city and an annual competition known as Ketchikan King Salmon Derby takes place in late spring for competitive anglers. Furthermore, wilderness areas become more accessible as snowline recedes to higher elevations; Settlers Cove State Park features camping primitive cabin rentals for rent day use fishing areas as well as incredible hiking on Lunch Falls Loop Trail where giant Sitka Spruce and Western Hemlock trees tower overhead!
Ketchikan culture: Ketchikan offers more than fresh air and delicious food; it is also rich with culture and history that you're bound to uncover when exploring it. There are various ways of exploring it; taking a stroll down historic Creek Street will reveal much about Ketchikan's long and colorful past while giving shoppers ample chances to shop for souvenirs! For further insight, spend some time at Southeast Alaska Discovery Center or Tongass Historical Museum where they provide insights into regional history while the Totem Heritage Center, Totem Bight State Park or Tsimshian-Haida Peoples Museum provide knowledge into native artistic traditions which give great insights!
Plan A fishing And Wildlife Small Group Adventure With Onsite Accommodations
Book your next family adventure to Ketchikan, Alaska… you won't regret it! The bottom line is that Anglers Adventures and Outfitters has something for every single one of your family members! Call us at (907) 254-0880 to learn more about our family excursions and adventure packages. Lodging is available on site, for convenience. Call us today or make a reservation online. Your next family adventure awaits!