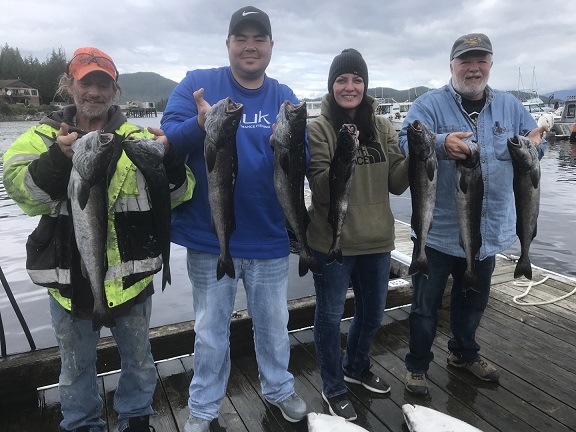 Boats are sailing out to deep water for great fishing trips! A multi-day black cod fishing trip out of Ketchikan (Alaska) is an excellent opportunity to get back outdoors – Captain Brian Ringeisen and Anglers Adventures and Outfitters make for a great team for this.
Black cod (or sablefish) is widely considered the world's most delectable fish due to its buttery taste. Large schools of this fish can be found in the waters surrounding Ketchikan in southeast Alaska; each black cod measures up to three feet long and weighs in at 8 1/2 pounds – that's a lot of butterfish!
Ketchikan's marine waters offer opportunities to catch five species of fish, including halibut (king), lingcod, Pacific cod, and greenling. There are also common fish like rockfish. From late April through June, mature chinook (king) salmon can be caught with weights up to 60 pounds; peak availability occurs in June.
When Is The Ideal Time To Go Fishing?
Although you might expect to catch both king salmon and silver salmon on the same day, their peak fishing seasons differ by several months. Halibut or black cod fishing is best done during the summer months; however, silver salmon fishing begins in August.
Did The Pandemic Affect Alaskan Sportfishing?
Alaskan fishermen were the primary industry affected by pandemic mandates. Governor Mike Dunleavy has worked diligently to restore safety and security to Alaska in phases, allowing recreational and sport activities to operate at 100% capacity. Sportfishing can be a great way to stay physically fit and healthy – it still exists here in Alaska! It relieves stress, provides fresh air and vitamin D, keeps you active on good days, and even brings back wild food on good ones!
Experienced Captain For Black Cod Fishing Charter
Are you in need of an experienced captain? Black cod fishing charter captain? Look no further – contact us today for more information! Anglers Adventures and Outfitters provides everything you need for an unforgettable day on the water. Brian Ringeisen has over three decades of experience guiding water excursions, along with 25 years as a US Coast Guard Certified Captain – making him an expert on Alaska's waters around Ketchikan like no other! Don't delay – book your black cod guided fishing trip today by calling (907)254-0880 or sending an email to brian@anglers-adventures.com! Custom charter options available as well!