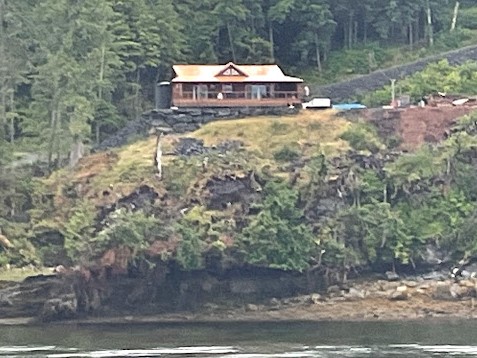 Ketchikan, Alaska offers unbeatable accommodations to pair with your next adventure! Here, you'll be treated to breathtaking views and endless outdoor adventure opportunities. Anglers Adventures and Outfitters wants you to take advantage of everything Alaska has to offer with their stunning lodge located in Clover Pass that provides all the modern conveniences of home. Opened in fall 2019, this tranquil haven for fishermen was only minutes away from Knudson Cove charter boat services! Experience amazing view, accommodation's and customized fishing experiences all in the same trip!
Lodge Amenities: Experience peaceful, clean comfort when you stay at our fishing lodge. Wake up to stunning ocean views every morning as you sip your coffee on the large deck while watching wildlife around you. Your family will feel right at home in the spacious, well-equipped kitchen as well as fully decorated living and dining areas; plus, three bedrooms and two bathrooms have been provided for added comfort. Best of all? Bring all your catch with you to the lodge – there's even a ventilated fish processing area attached with ample freezer storage so your catch can be processed properly and stored safely.
Whale-Watching And Fishing Charters Offer Unforgettable Experiences
When planning your next adventure trip, why not incorporate whale-watching into the itinerary and stay oceanside at an Alaskan lodge? From Alaska's remote northernmost to its lush southeast, whale watching opportunities are truly a highlight of many vacations here. And in summertime, as thousands of orcas make their way to feeding grounds off Alaska waters, sightings become as plentiful as the sun itself! After an exciting day spent whale-watching and wildlife sightings, wouldn't it be wonderful to relax on the porch of one of Alaska's seaside lodges? At Anglers Adventures and Outfitters, we want you to experience all that Alaska has to offer!
Southeast Alaskan waters offer many exciting adventures that will leave you wanting more. After a day on the water, nothing beats returning home to your fishing lodge for some well-deserved relaxation before getting back out again the following day. Multi-day Alaskan fishing and lodging packages let you maximize your time on the water without worrying about anything – Anglers Adventures will provide all equipment such as rods, reels, tackle, bait, and rain gear plus they even offer fish processing services! You can fish for rockfish, salmon black cod halibut as well as whale watching!
Have you always wanted to take an Alaskan fishing vacation? Anglers Adventures, owned and operated by Captain Brian Ringeisen, is the perfect solution. Let us help plan your next vacation or book one of our Alaskan lodging and fishing packages – call (907) 254-0880 today for more information!