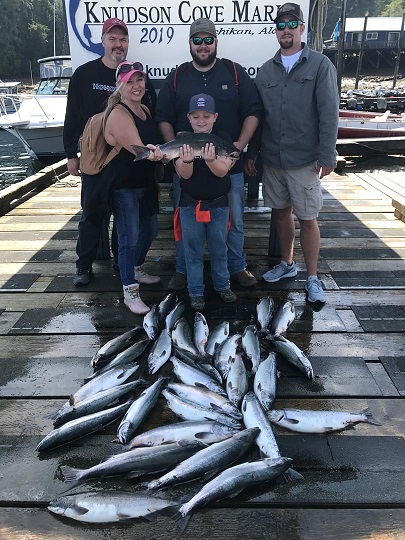 So, as anglers would say, "you want to get your line wet?" Booking a fishing charter for your first time out is a great way to do this. It allows you to concentrate on the experience and learn what it takes to angle properly, while allowing a boat captain to worry about everything else from waterway guidelines to where to find the best fish, locally. Anglers Adventures and Outfitters in Ketchikan, Alaska is just the place to book your first adventure!
Fully customized charters: You can choose from a half-day excursion (which includes 3-4 hours of fishing) to a full day expedition (which is 8-10 hours of fishing), even multi-day charters, or anything in between. This allows you to choose how much time you want on the water for your first time.
No equipment needed: When you decide that you want to experience this adventure, all you need to do is bring enough clothes to keep you warm. All charters include all the fishing guidance and instruction you could need or want, all fishing gear (rods, bait, tackle, and lures). On the boat, you will find rain gear, drinks and snacks, a heated cabin, a private bathroom, and even fishing licenses.
Will I always catch something? Even the most advanced anglers come back to the shore empty handed. A lot of what will determine how many, if any, fish you catch will be based on any requests you have as far as what type of fish you'd like to target and how long you stay out trying, but ultimately will be up to Mother Nature.
Oceanside Lodging Available: To add to the adventure, you can opt to stay seaside in our on-site lodge. Having been newly built in late-2019, Anglers Adventures' beautiful, private, oceanside lodge features spacious living with an oversized kitchen and dining room, three bedrooms, two baths, and an attached fish processing room with freezer storage.
First Time Fishing Charter Experts
Anglers Adventures and Captain Brian Ringeisen have been offering fishing charters for both novice and professional anglers for over 30 years on the waters around Ketchikan. A licensed Captain for nearly all of those years, Brian has the experience and the know-how to get you to the right spot, offer guidance, and allow you to experience your first fishing charter. Give us a try. You won't be disappointed.