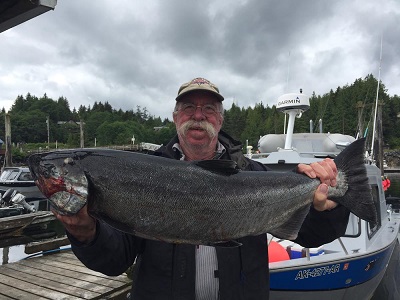 When searching for a fishing charter service in the bountiful waters of Alaska, you want to seek out a service that targets the fish you want to catch! Searching for a charter service that targets certain fish ensures the guide knows the fish species' habits, knows the best time of day or season to catch these fish, knows the best spot to catch these fish, and more importantly, knows the rules and regulations of the State's Fish and Game Department. Having this expertise will ensure you more success in fishing.
Salmon: If you are looking to take part in an exciting activity that is fundamental to local life in Alaska, salmon fishing may be the best choice. Ketchikan is the "Salmon Capital of the World" for good reason. With around 140 million pounds of fish coming through its docks annually, there is always plenty of salmon fishing to go around.
Halibut: Catching a big halibut is a goal of any serious sportsman. Halibut caught on average weigh from 15 to 20 pounds, but some anglers have caught halibut that are well over 150 pounds! In fact, the current state record for a halibut caught by a sportsman is 459 pounds! Halibut are truly a prized fish lauded by all sporting anglers alike.
Rockfish: If you're into sportfishing and love a good fight, we guarantee that many varieties of the fish of Ketchikan's waters will oblige! Black rockfish are typically very aggressive and should put up a good fight but are readily available in the deep waters around Ketchikan. There are several other varieties of rockfish available in the shallower waters that won't put up a fight to be caught. Choose your adventure!
Black and grey cod: Black cod, or sablefish: known to many as the best tasting fish in the world. Many gourmet meals are made from this fish, as the deep, buttery flavor is quite appealing to the taste buds. The southeastern Alaskan waters of Ketchikan are well stocked and contain large schools of black cod. On average, black cod grow to around 3 feet long and weigh in around 8½ -pounds.
At Anglers Adventures and Outfitters, we provide everything you need to have a great day out at sea. Having nearly 30 years' experience guiding excursions on the water, and over 25 years' experience as a US Coast Guard Certified Captain, Brian Ringeisen knows the waters around Ketchikan, Alaska like the back of his hand! Book your black cod guided fishing trip today by calling (907)254-0880 or send Anglers Adventures and Outfitters an email at brian@anglers-adventures.com. Custom charter options available!