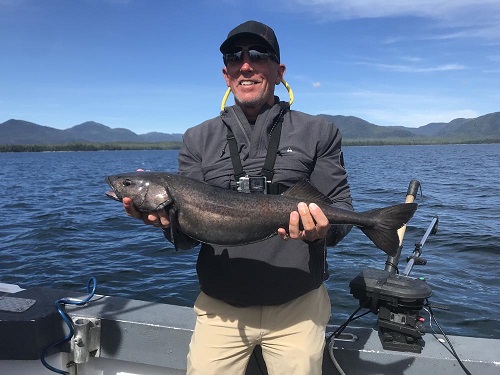 Perhaps you already know what you're going to get your loved ones, but we'd be willing to bet that the ones closest to you are the hardest ones to plan for. Imagine you and your spouse or family, all together, on a private, guided Alaskan fishing trip. Don't fish? There are many other things to do! Keep everyone together in an oceanside lodge, get a private, guided wildlife expedition to see the wonderful seals on the seaside, floating glaciers, or the bald eagles flying overhead. What about a guided whale-watching tour? Can you imagine the scenery? Consider giving the gift that will leave you and your loved ones telling stories about this amazing adventure for years to come! Anglers Adventures and Outfitters in Ketchikan, AK want to help you create these, and many more memories!
Customized fishing packages: Though there are numerous things to see and do in Ketchikan, most people come to fish the pristine waters. Whether fishing for halibut, salmon, or something else, the region supports a wide range of species. Customizable fishing packages are available in nearly every budget and are meant to be all-inclusive.
Wildlife expeditions: Ketchikan is the prime location for taking in all the beauty that the Alaskan frontier brings. Ketchikan is the southeasternmost city in the state, making it easy and convenient to get to! Knudson Cove, where expeditions on the water depart from, is amongst the best locations for viewing local wildlife, as it is somewhat secluded from the hustle and bustle of downtown.
Whale-watching adventures: Whale-watching is truly the trip of a lifetime! There are so many things to see out on the water and with our charter, we can get you an up close and personal look. Our charter guests regularly watch sea lions lounging and playing in the bay, humpback whales rising to the surface, and our ever-entertaining killer whales.
Oceanside lodge: A private lot allows for gorgeous views in the morning. Take your coffee right out onto the large ocean view deck and enjoy the wildlife happening all around you. Once inside, get comfortable in our spacious, fully stocked kitchen and fully decorated living and dining rooms. With three bedrooms and two baths, your family will be more than comfortable.
Consider gifting your loved one a lodging package, paired with a boat charter, whale-watching expedition, or fishing charter today! It will be a gift that will never be forgotten! Contact Anglers Adventures and Outfitters at (907) 254-0880 or email brian@anglers-adventures.com.