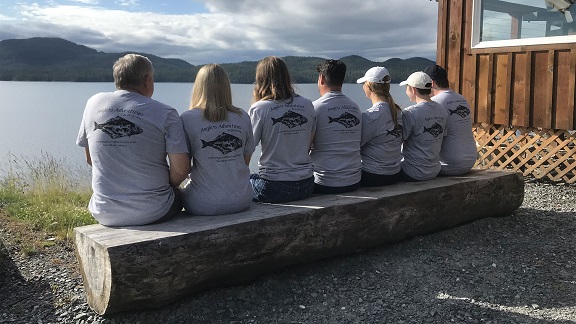 We hear a lot about seizing the day, soaking in the moment, and always embracing the moment. But how many of us really do any of those things? Seeing the value in the mentality probably indicates a yearning for new experiences, but too often life tells us that more pressing realities need to be dealt with before we can actually be more present. An excursion with Anglers Adventures & Outfitters is a perfect way to live in the moment and enjoy the adventure of a lifetime is just a few clicks of the mouse away.
Anglers Adventures & Outfitters offers many different ways to enjoy the outdoors in what is, for our money, the most beautiful corner of the world: Knudson Cove in Ketchikan, Alaska. If you love to fish, and have always wanted to see Alaska, there is no better opportunity than working with our staff to plan your next vacation. We offer half- and whole-day fishing excursions for salmon and halibut, two of the iconic species of fish in Alaska. All you will have to do is get here, we will take care of the rest. Upon your arrival, we provide all the gear, the bait, and the tackle needed to enjoy some of the best fishing on the planet.
Ketchikan Alaska Fishing Adventure
Our boat, the Sierra Dawn, offers an ideal combination of safety, speed, and comfort. It serves the purposes of experienced fishers and those who are trying it for the first time. If one or more people in your party chooses not to take part in the fishing, the Sierra Dawn offers private quarters and the world's greatest scenic views. The waters off Ketchikan, Alaska, are replete with ocean life, and it is not uncommon for us to see seals and whales while working to catch salmon and halibut.
If you are interested in a more luxurious excursion, we are also happy to offer Anglers Lodge. Our new lodge is strikingly beautiful. Its comfort is rivaled by the views it offers of Clover Pass, one of the most ruggedly beautiful areas of Ketchikan. Anglers Lodge is equipped with three bedrooms, two full bathrooms, a spacious deck, and even a ventilated room in which to process the fish you catch. Anglers Lodge provides our guests with a perfect end to a perfect day of fishing.
The Anglers Adventures experience is unique because we simply love what we do, and we thoroughly enjoy sharing our love for this part of the world with the people who schedule time with us. Call us at (907) 254-0880 to schedule a once in a lifetime Alaskan excursion.