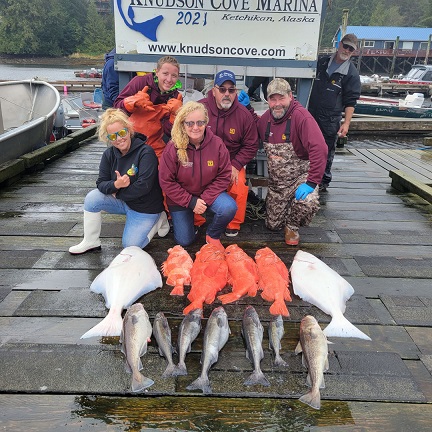 2023 is just around the corner and now is the perfect time to start planning a vacation for the coming year. An Alaska vacation is a breathtaking, once in a lifetime opportunity to take in some of the most beautiful sites of the entire world. Anglers Adventures and Outfitters can help you plan the perfect and unique Alaska vacation. Here are some of the features of our Alaska trips that have attracted our most satisfied clients:
All-Inclusive Fishing Excursions: No one wants to pack fishing gear when they travel all the way to Alaska. The crew at Anglers Adventures & Outfitters will provide you with everything that you need for your excursion including gear, bait, tackle, lures, raingear (if needed). You can also purchase your fishing license conveniently right on the boat!
Whale And Wildlife Watching: If you are not into fishing, no problem. We can focus on the breathtaking views, wildlife and whale watching on our excursion. There is no shortage of gorgeous things to see on our adventures!
Multiple Fishing And Charter Options: Whether you are a beginner or have been fishing all of your life, we will customize your excursion to meet your specific needs. We offer full day, half-day and multi-day excursions that target salmon, halibut, rockfish or black and gray cod. Our experienced captain can take you to the perfect spot for whatever you are looking for!
Lodging Options: We opened our private Oceanview Lodge in the Fall of 2019 and now are able to offer overnight accommodations for our guests in addition to a guided fishing excursion. Our lodge has 3 bedrooms, 2 bathrooms and a large deck with an ocean view in addition to a fish processing room (complete with a freezer). You will have everything you need to complete your perfect Alaskan vacation.
Alaska Native Guide: Brian Ringeisen is the Captain of the Sierra Dawn, the charter boat for Anglers Adventures & Outfitters. Brian is a native of Alaska and has been a U.S. Coast Guard licensed Captain for 29 years. He is CPR and First Aid Certified, fully licensed and insured. He knows the waters and has chosen to set sail from the Knudsen Cove near Ketchikan, Alaska, away from some of the more crowded areas of water.
When you are ready to book your 2023 Alaska vacation, give Brian a call at 907-254-0880 or email him at brian@anglers-adventures.com for more information!