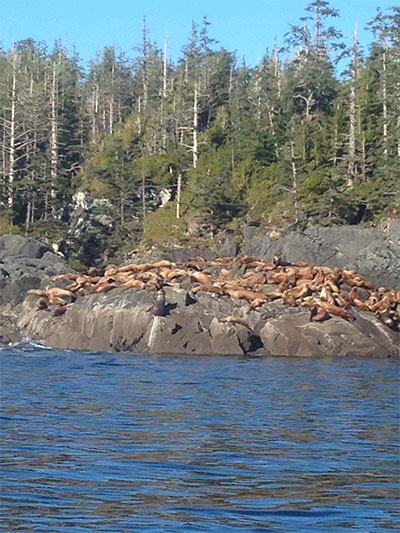 The end of September marks the end of the peak fishing season for halibut and salmon, but there is so much more that Alaska has to offer in the other months of the year. Consider booking your next wildlife viewing experience with the professionals at Anglers Adventures in Ketchikan. Pair the experience with a stay at their onsite oceanside lodge with spectacular views. Come to watch the whales, or the seals play, or the eagles soar above, or the fall foliage. So many adventures await your next visit to Alaska!
Wildlife In Ketchikan AK
The waters are abundant with record numbers of salmon and halibut, and prime fishing season runs from May through September. With the population of such fish in abundance, it may come as no surprise that the areas around Ketchikan are also host to many different species of wildlife. Whales, sea lions, seals, sea otters, bald eagles, deer, bear, mountain goats, and gray wolves, just to name a few. They are all in abundance around the Ketchikan area, so sightings are probable every day!
Whale-Watching Expeditions Out On The Water
Onboard a boat, visitors are likely to see killer whales (or orcas) – which are actually in the dolphin family. Gray whales are also prevalent in Alaskan waters. Avid whale-watchers might experience a sighting of one of several different whale species: bowhead, narwal, and sperm whales, just to name a few. There's a slim chance, too, of seeing the blue whale as it makes its pilgrimage through Alaskan waters. The blue whale is the world's largest mammal, weighing in at up to 200 tons and measuring 100' in length!
Oceanside Lodge Available
After a full day of taking in all the wildlife that Alaska has to offer, why not consider staying in the beautifully situated oceanside lodge? Located in Clover Pass, this newly built lodge features all the amenities of home and offers the best relaxation possible, wrapped up in a beautiful three-bedroom two-bath home situated on a private lot with gorgeous oceanfront views with a wrap-around porch.
Consider your next adventure to be a wildlife-viewing experience in Ketchikan, Alaska. Allow an experienced guide and the team at Anglers Adventures to make this adventure of yours an experience of a lifetime! To find out more about the services offered through Anglers Adventures and Outfitters, call (907) 254-0880 or email brian@anglers-adventures.com today!