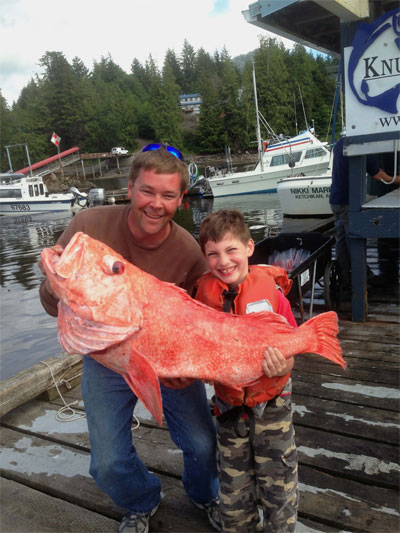 If Alaskan fishing is on your bucket list, there is no better place to be than Ketchikan. Located in Southeast Alaska, we are known for being the salmon capital of the world with fantastic fishing opportunities and immaculate views! A multi-day fishing charter allows you the opportunity to take in and fully experience life out on the water. At 8-10 hours on the waters during the day, you can experience breathtaking sights, beautiful wildlife, and an abundance of fishing along the way. Consider experiencing all Ketchikan has to offer with at least four days out on the water with Anglers Adventures and Outfitters.
Fishing The Species You Want
The Alaskan waters are home to many different fish species – millions of fish swim through the waters every day. During our full day charters, you will have the opportunity to catch Salmon, Halibut, Rockfish, Black and Gray Cod, and more! You also don't have to be an expert to catch these fish. We cater to both the novice and expert anglers so that everyone can walk away with the best experience possible.
What Is Provided: One of the best advantages to our multi-day charter is the ease of entry. No need to pack a thing! We will have everything you need to have a fun day out on the water. Our F/V Sierra Dawn 28' Bayliner Trophy boat comes equipped with everything you need to be comfortable. With a heated cabin, private bathroom and all the bells and whistles, you will be more than accommodated for the day. We also provide all the essential gear and rainwear, covering the bait, tackle, and lures for your fishing. We will have plenty of snacks and beverages on board too, allowing you plenty of nourishment to reel in your dream fish.
Experienced Captain And Tour Guide
You have the best Captain and tour guide in all of Alaska to help you with anything you need. Captain Brian Ringeisen has over 26 years of guiding experience and can bring you to the best local fishing spots around. Providing as much instruction or advice as you need, he aims to make every day the best day out on the water.
So, what are you waiting for? It's time to go ahead and book your multi-day Alaskan fishing charter today. For more information about our charters and our services, contact us today. Call Anglers Adventures and Outfitters today at (907) 254-0880 or email brian@anglers-adventures.com.