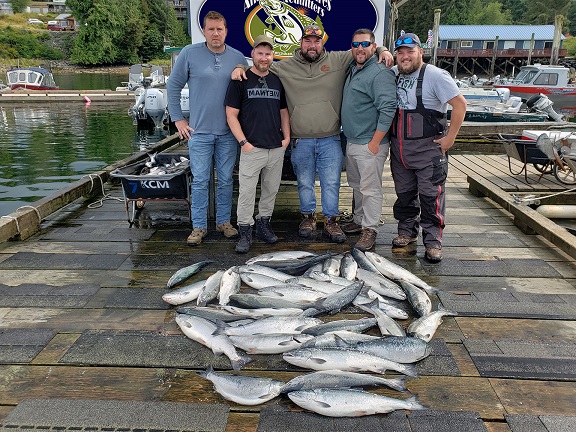 For many people all over the world, an Alaska vacation is on a lifetime bucket list. Maybe you want to go salmon fishing, maybe you want to see the beautiful scenery, landscape and wildlife, or enjoy an escape from city life. No matter what your motivation, Alaska has so much to offer. If you are looking ahead to planning your next vacation and Alaska is in your sights, then consider reaching out to the team at Anglers Adventures & Outfitters. We offer unique, beautiful, relaxing and affordable options for your Alaska vacation.
Fishing, Whale Watching And Wildlife Viewing In Alaska
Anglers Adventures & Outfitters is based out of Ketchikan, Alaska, and we sail in and out of Knudsen Cove, which is a perfect, quiet spot for those who are taking their first ever fishing excursion, or a group who has done this before. Our charter excursions are popular options for larger families with kids and adults of all ages. Our charters can be booked for a multi-day, full day or a half day and we can help you fish for salmon, halibut, rockfish and black and gray cod. In addition to fishing, these excursions are also ideal for soaking in the beautiful scenery, whale watching and wildlife viewing. An Alaska vacation has something for everyone.
Anglers Adventures & Outfitters knows that it is not every day that you can travel to Alaska. We also know that it might be extremely difficult to pack the necessary supplies for a fishing excursion. So, we make these logistics easy for our guests. Our charter trips include everything that you will need for fishing including all gear, bait, tackle, lure, rain gear, snacks and beverages. We can even process your fish and ship them to you at home! We also offer lodging if you want the full experience!
Ketchikan, Alaska Fishing Charters
You will be comfortable and safe on our boat. The Sierra Dawn is a 28′ Bayliner Trophy with a pair of 225hp Honda. It has a heated and raised cabin, a private bathroom, and new electronics. It can comfortably accommodate 4-6 people per excursion. Our captain and owner, Brian Ringeisen has more than 30 years of experience leading guiding fishing trips in Alaska, and he is a U.S. Coast Guard licensed Captain, CPR and First Aid Certified, fully licensed and insured.
If you are considering an Alaska vacation, give us a call at Anglers Adventures & Outfitters 907-254-0880 or email Brian at brian@anglers-adventures.com and we can help you begin your planning!