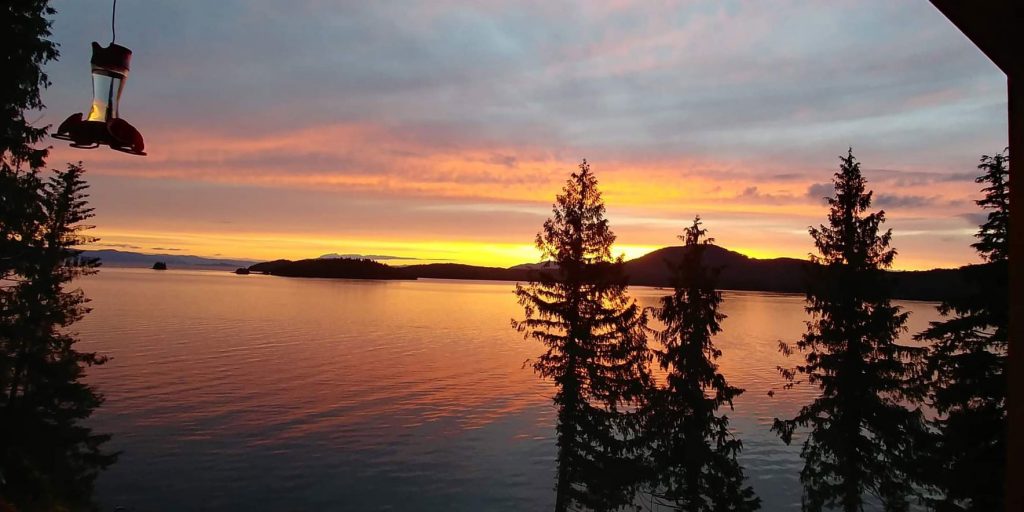 We may be biased, but we don't think there is a more beautiful place to lodge where you can experience breathtaking views and outdoor adventure than in Ketchikan, Alaska.  At Anglers Adventures and Outfitters, we want you to experience all that Alaska has to offer. Located in beautiful Clover Pass, this stunning lodge has all the comforts of home. Completed in the fall of 2019, this lodge provides the ultimate rest and relaxation after a long day out on the water. Located minutes away from our charter boat in Knudson Cove, your fishing lodge oasis is just a few minutes away from all the action. (The picture to the right is from the deck of our lodge overlooking Clover Pass)
The Anglers Lodge Amenities
When you come to stay in our fishing lodge, expect clean, serene comfort. This private lot allows for gorgeous views in the morning. Take your coffee right out onto the large ocean view deck and enjoy the wildlife happening all around you. Once inside, get comfortable in our spacious, fully stocked kitchen and fully decorated living and dining rooms. With three bedrooms and two baths, your family will be more than comfortable here. Best of all, you can keep all your catches with you at the lodge! Attached to our lodge is a ventilated fish processing room with plenty of freezer storage to process and store your fish appropriately.
Experience Breathtaking Views on our Fishing Charters or Whale Watching Expeditions
The Southeast Alaskan waters are filled with fun adventures that always leave you wanting more. After a full day out on the water, there's nothing better than coming home to your private fishing lodge, relaxing, then going back out on the water the very next day. A multi-day Alaskan fishing and lodging package allows you to seek your adventure worry-free by maximizing your time on the water and providing you with all the equipment you would need. Anglers Adventures provides rods, reels, tackle, bait, rain gear, and can even take care of processing any fish that you catch. You can fish for salmon, rockfish, black and gray cod, or halibut and even go whale watching if you are interested.
LIMITED AVAILABILITY: Book your fishing and lodging package now
If you've ever wanted to take an Alaskan fishing trip, this is absolutely the right way to do it! To plan your next vacation, or to book one of our Alaskan fishing and lodging packages, call Brian Ringeisen (owner and operator of Anglers Adventures) at (907) 254-0880!