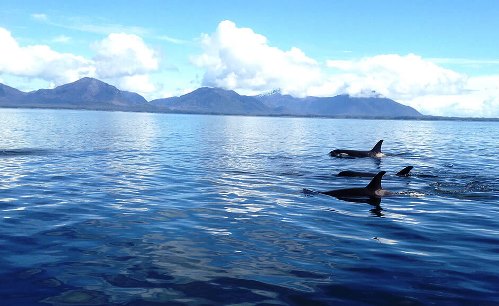 When you come to visit the beautiful state of Alaska, you really want to make the most out of your trip. Truthfully, there is no place like it! Ketchikan, Alaska is located along the southeast Alaskan waters. It is in a prime location for watching large, beautiful whales play, eagles fly, sealions lounge, and much more. If you have been wanting to get the full experience of Alaskan wildlife out on the water, Anglers Adventures and Outfitters has got you covered.
Wildlife Viewing in Ketchikan
While many people know Ketchikan for its abundance of salmon supply, it has become quite clear that we aren't the only knowledgeable creatures in town. With fish-filled waters, it's no surprise that we are also home to gorgeous whales and many other timeless wild animals. At Anglers Adventures and Outfitters, we are situated in a perfect location for viewing all the local wildlife. Away from the busy waters and downtown areas, our cove allows you to take in breathtaking views even right on the dock! If you are searching for real Alaskan wildlife, you can almost always find it right here.
Experienced Local Wildlife Guide

When you hop aboard our 28' Bayliner Trophy boat, you immediately feel that sense of adrenaline. We are fully stocked and ready to take you out and find that once in a lifetime wildlife moment. Captain Brian Ringeisen, owner and Anglers Adventures guide, has over 26 years of guiding experience on the Southeast Alaskan waters. He will talk with you about your trip and the things you want to see. With his notable experience and knowledge about Alaskan waters, he will align his priorities with yours, allowing you to focus on creating those picture-perfect memories out on the water. Sea Lions, humpback whales, and even killer whales are all regular attractions out on the water. Using commercial charters can seem quite impersonal and you may not even be able to get close enough for a good picture. Utilizing our 28' boat, we can get our guests an up close and personal look at these animals, allowing for beautiful, priceless pictures that are all your own.
For more information about our services here and how you can experience Alaskan wildlife, give Anglers Adventures and Outfitters a call. Call or book your Alaskan wildlife charter today at (907) 254-0880 or send us an email at brian@anglers-adventures.com.