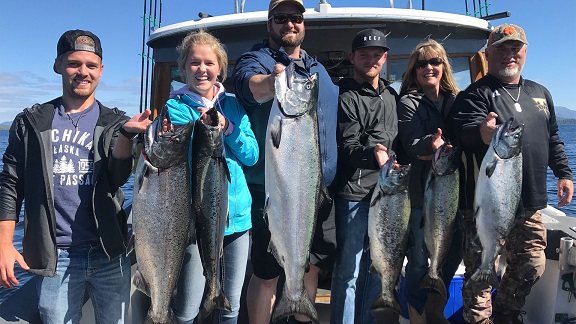 Perhaps the most popular fishing trips in Alaska are for salmon. There are plenty of salmon in the state of Alaska and our charter fishing trips set sail out of Ketchikan, which is known as the "Salmon Capital of the World". There is simply no better destination in the world for a salmon fishing excursion. Anglers Adventures and Outfitters offers chartered fishing trips for our customers, so you do not have to worry about any of the logistical issues or supplies. Our packages come with essential gear (including rain gear), snacks, drinks, bait, tackle, lure and complete professional instruction and guidance about how to approach the task! In addition to having the opportunity to catch salmon, you can also take in the breathtaking views of Alaska and make amazing memories on your guided fishing excursion.
Ketchikan Alaska Salmon Fishing Excursion
It is estimated that over 140 million pounds of salmon go through the waters of Ketchikan, Alaska each year. In our waters, you will find king or chinook salmon, silver or Coho salmon, chum salmon, pink salmon as well as sockeye salmon. As a general rule, we think that king salmon and silver salmon are the best to try to catch in our waters. The late spring and summer months of May, June and July tend to be the best times to make a good catch and our crew will help you every step of the way.
Experienced Salmon Fishing Guide In Alaska
Brian Ringeisen is the founder of Anglers Adventures and the captain of the Sierra Dawn. Brian has more than 20 years of experience as a guide and knows the waters of Ketchikan well. Brain prioritizes safety on his excursions and has held his U.S. Coast Guard Captain license since he was 19 years old. He is also CPR and First Aid certified and fully licensed and insured. He is passionate about his work and loves nothing more than leading a charter fishing trip. We offer full day charters and multi day custom charters only, and have recently opened a private ocean view lodge that is located just a few short minutes from Knudsen Cove, where we dock our boat. When you book with us, you can enjoy a once in a lifetime salmon fishing excursion in Ketchikan, Alaska, while taking in all the beauty that the area has to offer. For more information about our salmon charter fishing trips, call Anglers Adventures at 907-254-0880.