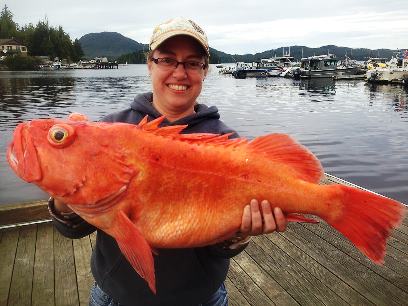 If you're into sportfishing and love a good fight, we guarantee that many varieties of the fish of Ketchikan's waters will oblige! Black rockfish are typically very aggressive and should put up a good fight but are readily available in the deep waters around Ketchikan. There are several other varieties of rockfish available in the shallower waters that won't put up a fight to be caught. Choose your adventure!
Rockfish Varieties
There are approximately 30 different species of rockfish available in the waters of Alaska. Mature rockfish will range in age from 4 to 140 years and range in size from 1 to 30 lbs. The average size caught above 100′ will range between 1-10 lbs. The larger rockfish are typically caught at deeper depths ranging from 100′ to 2000′. Rockfish come in many different shapes and sizes. From black to bright orange to stripes, we have them all. There are two distinct categories of rockfish: pelagic and non-pelagic. Pelagic rockfish include black, blue, dark, dusky, widow, and yellowtail. These six species are uniformly gray, green, brown, or black. All rockfish not listed as pelagic are considered non-pelagic, but consist mainly of quillback, yelloweye, and copper species.
Rockfish Fishing Techniques
Rockfish are aggressive feeders but are easy to catch if you don't get hung up on the bottom. The best way to catch these bottom dwellers is to hit bottom then immediately reel your jig up a couple cranks, jig it a few times, then find bottom again, reel up a few cranks, jig and repeat. The trick is to keep finding the bottom but don't drag it because our bottoms are very rocky and irregular with vertical cliffs, ledges, boulders, and holes. Sometimes the bottom depth will change 50′ in just a 3-foot drift. This is the kind of bottom rockfish love. Rockfish can be easily caught at shallower depths without too many problems.
Guided Rockfish Sportfishing Expedition
Anglers Adventures and Outfitters is locally owned and operated by a year-round Ketchikan resident with nearly 30 years of guide experience. The beautiful and scenic area in Ketchikan, Alaska is ideal for novice fisherman, families with kids, or even a group with more experienced fishermen. One of our most popular private charter services targets rockfish and we provide all gear, bait, tackle, and lures are included in your one per person price. Half-day charters start at $175/person for four hours of fishing for 4-6 people and $350/person for a full day of 8-10 hours of fishing. If you are planning a trip to Alaska in the coming weeks or months and would like a once in a lifetime rockfish fishing excursion, contact Captain Brian Ringeisen and the team at Anglers Adventures and Outfitters at (907) 254-0880, or make your reservation online today!