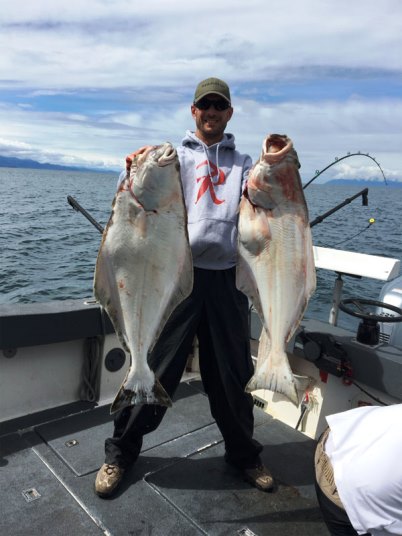 As the ice melts and warmer weather starts to ease into the Alaskan climate, there's one thing on the mind: fishing season. A favorite fishing charter around this time of year is, without a doubt, halibut fishing. Halibut season tends to run from mid-May to almost mid-September. Whether you've been several times before or you are thinking about halibut fishing for the first time, plan your next excursion with Anglers Adventures and Outfitters.
Catching a big halibut is a goal of any serious sportsman. Halibut caught on average weigh from 15 to 20 pounds, but some anglers have caught halibut that are well over 150 pounds! In fact, the current state record for a halibut caught by a sportsman is 459 pounds! Halibut are truly a prized fish lauded by all sporting anglers alike. These flat fish are rich in Omega-3 fatty acids, protein, vitamins, and minerals. Their mild flavor makes them easy to season and cook however you like. These unique fish swim sideways in the water, and both of their eyes are found on only one side of their body. During warmer months, they are abundant in the water in Ketchikan.
Fishing From Your Own Groups Chartered Boat
The professional team at Anglers Adventures and Outfitters has thought of everything for you so that you do not have to. We prepare all the essential gear needed for a half-day, full day, or multi-day halibut fishing excursion. This includes bait, tackle, lures, rods, and reels. We also have plenty of snacks and drinks on board to keep your energy up. Additionally, our boat has a pair of 225hp Hondas, a heated and enclosed cabin, a private bathroom, a chart plotter, GPS, and depth sounders. Everything you need for a successful day out on the water is right on board!
Guided By An Experienced Local Professional Angler
Anglers Adventures and Outfitters is committed to ensuring that your halibut fishing excursion will be one to remember! The Founder and Captain, Brian Ringeisen, is truly passionate about what he does every day. Having nearly 30 years' experience guiding boats, Brian provides you with all the advice and insights you need to make the most of your fishing voyage. He is deeply qualified to serve you on your next trip. Brian possesses a U.S. Coast Guard Captain's license, CPR and First Aid certifications, and carries full boat licensing and insurance.
Halibut Fishing Excursion In Ketchikan
Sportfishing in Ketchikan is an aspect of life you can't miss out on. No trip to Alaska would be complete without it. Halibut fishing can be great fun for the whole family! For more information about the halibut fishing charters in Ketchikan, Alaska, give Anglers Adventures and Outfitters a call today. Call (907) 254-0880 or send an email to brian@anglers-adventures.com.