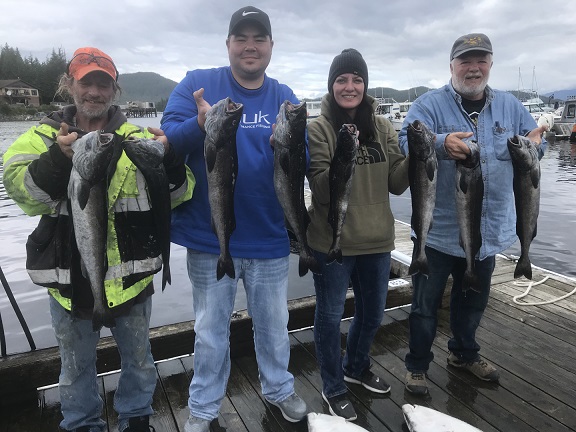 The Alaskan sportfishing industry, like many others, was hit hard during the pandemic's heights, but we are proud to report that, with the lifting of mandates, boats are sailing out to deep waters for some great fishing excursions once again! One great way to enjoy the outdoors again is by scheduling a multi-day black cod fishing excursion out of Ketchikan, Alaska. There is no greater, and more experienced, team to do this with than Captain Brian Ringeisen and the team at Angler's Adventures & Outfitters.
How is the pandemic affecting sportfishing?
One of the main industries affected by the pandemic mandates was the Alaskan fishing industries. Alaska State Governor, Mike Dunleavy has been working, through phases, to reopen Alaska responsibly. Recreational and sports activities are encouraged to function at 100% capacity. Staying physically active through activities like sportfishing is one of the best ways to keep your mind and body healthy. In Alaska, fishing remains open, and can be used to relieve stress, get some fresh air and vitamin D, stay active, and, on a good day, bring back fresh, wild food.
Black cod, or sablefish, is known to many as the best tasting fish in the world. Many gourmet meals are made from this fish, as the deep, buttery flavor is quite appealing to the taste buds. The southeastern Alaskan waters of Ketchikan are well stocked and contain large schools of black cod. On average, black cod grow to around 3 feet long and weigh in around 8½ -pounds. That's a lot of butterfish!
Can I expect to catch other kinds of fish too?
The marine waters of the Ketchikan area support catchable populations of all five species of Pacific salmon, halibut, lingcod, Pacific cod, greenling, herring, and several common species of rockfish. Mature chinook (king) salmon weighing up to 60 pounds are present from late April through June, with peak availability in June.
When's the best time of year to plan a fishing excursion?
Although you might expect to reel in king salmon, silver salmon, halibut, black cod, and rockfish all on the same fishing day, their respective peak fishing times differ by a couple of months. While the season opens for halibut and black cod fishing in March, the summer months are best for catching them. June is considered prime time for king salmon fishing, while silver salmon fishing is best enjoyed during August.
Experienced Black Cod Fishing Charter Captain
At Anglers Adventures & Outfitters, we provide everything you need to have a great day out at sea. Having nearly 30 years' experience guiding excursions on the water, and over 25 years' experience as a US Coast Guard Certified Captain, Brian Ringeisen knows the waters around Ketchikan, Alaska like the back of his hand!
Book your black cod guided fishing trip today by calling (907)254-0880 or send Anglers Adventures & Outfitters an email at brian@anglers-adventures.com. Custom charter options available!