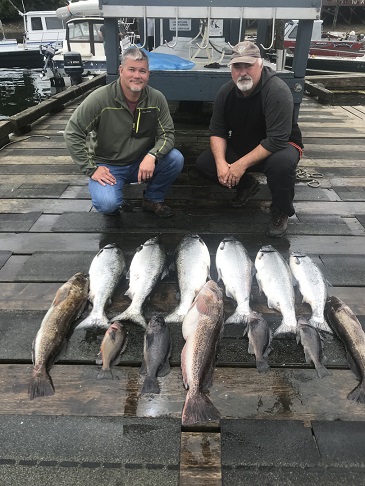 Although many people know precisely what to get their loved ones, some of us find ourselves staring at the ceiling at night, thinking about what constitutes a meaningful gift. Whether it's a close friend, spouse, partner, or parent, an Alaskan fishing trip is something no angler will ever forget. Not only will you be giving a shot at a massive haul, but also a life-changing experience. Anglers Adventures and Outfitters' beautiful ocean-side lodge, overlooking the majestic Clover Pass, is a magical place with unrestricted access to some of the most incredible wilderness and fishing in the world. Not everyone can say they've gone on an Alaskan fishing trip, but most who have will tell you they've never looked at fishing the same way again.
Even though fishing is the primary objective for most of our guests, there are many other activities to be enjoyed at Anglers Adventures. Guests will be amazed at the ease at which they can explore these treasured preservations via guided day trips. Whether you want to discover a gigantic glacier or a sprawling temperate rainforest, Anglers Adventures has it all!
Alaska fishing Packages
Though there are a countless number of things to see and do in Ketchikan, Alaska, most people come here to fish the immaculate waters. Whether it's fishing for halibut or highly sought-after salmon, our region supports a wide range of species and is a fishing paradise. All-inclusive fishing packages are designed to cater to every budget, and we're confident that you'll find the perfect bundle.
Whale-Watching Expeditions As You Fish
Whale-watching is truly the trip of a lifetime. There are so many things to see out on the water and with our charter, we can get you an up close and personal look. Our charter guests regularly watch sea lions lounging and playing in the bay, humpback whales rising to the surface, and our ever-entertaining killer whales.
Alaskan Wildlife Adventures
When you think of Alaskan wildlife, Ketchikan should come to mind. It is the prime location for taking in all the beauty that the Alaskan frontier brings. Ketchikan is the most southeastern city in Alaska, making it easy and convenient to get to! Knudson Cove, where we leave port, is the prime location for viewing local wildlife as it is away from the busy waters and downtown areas.
Consider gifting your loved one a lodging package, paired with a boat charter, whale-watching expedition, or fishing charter today! It will be a gift that will never be forgotten! Contact Anglers Adventures and Outfitters at (907) 254-0880 or email brian@anglers-adventures.com.