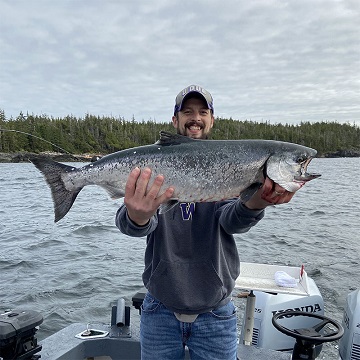 Salmon fishing is more than just a fun excursion to try to catch a big fish; it's a chance to take in beautiful views of the local area and reconnect with nature. Away from the rush of city life, you can see beautiful wildlife in their natural habitat and take in the same sights that natives have witnessed for thousands of years. It's all about King salmon in Knudson Cove, and they're biting! Ketchikan salmon catch rates typically increase the last two weeks of June. King salmon catch rates in the Mountain Point area and the Herring Bay terminal area have been increasing, as have they have in areas north of town — specifically Survey Point and the nearby waters Clover Pass and Knudson Cove.
Where To Find King Salmon
There are often bait balls and salmon on the fish finders in boats parked at the docks in Knudson Cove. Starting each May, anglers troll in one big wide circle starting from the mouth of the marina, then north. From there boats keep trolling northbound toward Potter Point, then east to the rock marker, and finally south to the outer edge of the marina.
Pro Tips: Catching King Salmon
In most cases, you can catch King salmon by trolling at about two knots dragging herring. Kings can swim about 12 miles per hour — they'll have no trouble keeping up. It is illegal to use live bait in Alaska, so we suggest using frozen herring that have been prepped in a salty brine. Dragging a full herring or plug herring with flashers and hoochies works just fine, too.
Salmon Population
If you are looking to take part in an exciting activity that is fundamental to local life in Alaska, salmon fishing may be the best choice. Ketchikan is the "Salmon Capital of the World" for good reason. With around 140 million pounds of fish coming through its docks annually, there is always plenty of salmon fishing to go around.
Anglers Adventures runs out of Knudson Cove for our Ketchikan fishing excursions. Knudson is a short drive away from the hustle of the downtown waterways. Pickup is available for multi-day charters and for all others – Ketchikan has a multitude of taxi cabs to bring you out. To book half-day, full day, or multi-day chartered fishing trips in Ketchikan, AK, call Brian today at (907) 254-0880, or email him at brian@anglers-adventures.com.