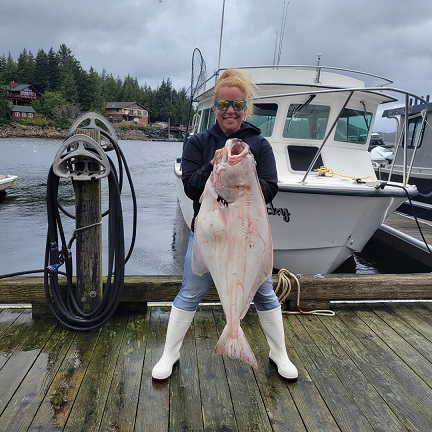 Out on the Alaskan water, everyday can seem like a new adventure. For an angler, Halibut sport fishing happens to be one of the most fun, adventurous charters out there! Fortunately, Halibut fishing is in abundance here in Ketchikan, Alaska. Truly, no trip to Alaska is complete without some time out on the water reeling in a Halibut. Halibut fishing is fun for the whole family and makes for great memories that last an entire lifetime. At Anglers Adventures & Outfitters, we are here to help create those memories with you!
What Is Halibut?
Halibut is a large flatfish that is both commercially and recreationally caught for its delicious taste and abundance of health benefits. Halibut are typically dark brown on the top side with a white underbelly. While they are initially birthed with one eye on each side, eventually one eye migrates to the other side of the head! Halibut are bottom dwellers and primarily spend their time near the bottom of our Alaskan sea floor. This is why if we are going to fish for Halibut, it must be an all-day charter. Halibut fishing is one of the most sought out types of fishing. Halibut is one of the largest bony fish in the world, making it a strong fight to reel in. With a very mild flavor and being extremely rich in Omega-3 fatty acids, proteins, vitamins and minerals, there is no question that Halibut is a great fish to catch all around.
Fishing For Halibut
For every fishing charter, no matter what we are after, we will always come prepared. At Anglers Adventures & Outfitters, we will cover all the essential gear you need for a fun, successful day out on the water. We know our Halibut here in Alaska and will hook you up with all the proper bait, tackle and lures that you need to reel in your prized fish. We also provide all the snacks and drinks to keep your energy up when that bony fish hooks your line. On board, we have a pair of 225hp Honda engines, a heated and enclosed cabin, a private bathroom, a chart plotter, a GPS system and depth sounders. Last but certainly not least, Captain Brian Ringeisen, your deep qualified guide is present to help you attain all of your charter goals. Everything that you need to be successful is right on board!
Ready to book your full day halibut charter? For more information about our full day charters in Alaska, give us a call today. Contact Anglers Adventures & Outfitters today at (907) 254-0880 or send us an email at brian@anglers-adventures.com.