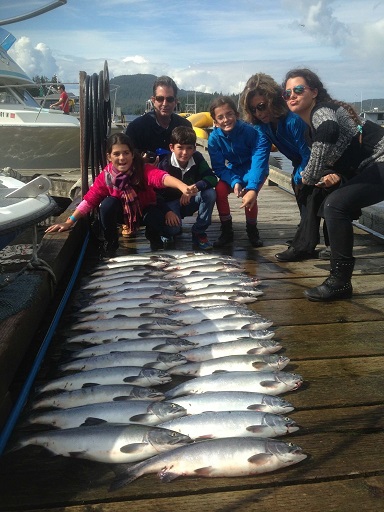 Are you planning a family trip to Ketchikan, AK in 2022 and are you looking for the perfect excursion that will bring excitement for the whole family? If so, our team at Anglers Adventures & Outfitters has just the plan for you! Consider our full-day fishing charter that will be sure to bring a smile to the faces of everyone in your family. We'll guide you to some of the best fishing in Alaska while you will also get to experience breathtaking views of the Alaskan landscape and wildlife. There's no better time than now to get this excursion on the calendar.
Full-day Charter Is Perfect For The Family
Our full-day fishing charter provides our clients with the total package from beginning to end. Whether you are an experienced fisherman, or this is the first fishing charter that your family has ever been on, this full-day charter is perfect for the family. To help alleviate planning and stress, we provide our charter guests with all of the gear, bait, tackle and lures that you will need for this full-day charter. Even if we run into rain on our trip, we'll have plenty of rain gear for the family. If you are in need of a fishing license or stamps, these are available for purchase right on our boat. Once the full-day charter is over, we offer our guests custom fish processing and shipping so that they can indulge in the fish that were caught when they get home.
Alaska Scenery, Wildlife And World Class Fishing
It is common for our full-day charters to have guests that range in age. We always make sure that kids have loads of fun and we can even make the experience pleasant for someone that has no interest in fishing. Our captain will navigate us through the Ketchikan waters to beautiful views of Alaskan scenery and wildlife. We may even run into a whale if we're lucky! A recent review we received captures exactly what we strive to accomplish with every full day charter that we take on. "Brian provided an outstanding trip for my family, finding great fish and providing an all-around terrific experience for everyone from my 10 year old son to my 60 year old parents." – Evan M.
Are you ready to take your family on an excursion in Alaska that they'll never forget? If so, take advantage of our full-day fishing charters for the whole family where you'll be able to fish for salmon, halibut, rockfish and black & grey cod. To schedule your 2022 upcoming full-day fishing charter in Alaska, give Anglers Adventures & Outfitters a call today at (907) 254-0880 or email brian@anglers-adventures.com.