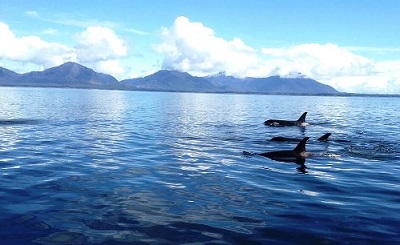 At Angler's Adventures & Outfitters, every day we get out on the water is a great one. From reeling in that prized fish to bearing witness to mother nature's miracles, Southeast Alaska is an amazingly beautiful work of art. At Angler's Adventures & Outfitters, our charter is located in the prime location for witnessing all that our Alaskan seas have to offer. If you are at all interested in a nature focused charter, Angler's Adventures & Outfitters is the perfect place for you.
As we've said before, our charter is located in the perfect location! Ketchikan, Alaska is located in the most southeastern tip of Alaska. Within Ketchikan, there can still be a lot of hustle and bustle. However, our charter is thankfully tucked away into a beautiful little nook called Knudson Cove. This prime location is a fantastic area to take off into the water or even witness the wildlife right on the dock! Guests in the past have been able to spot bald eagles flying overhead and sea lions playing within the cove. There's nothing like starting out a wildlife adventure with actual wildlife right at your fingertips.
Alaskan Water Wildlife
If you want a real memory maker, whale watching in Alaska should be placed on the top of that list. Whale watching at Angler's Adventures & Outfitters is truly the trip of a lifetime. There are so many things to see out on the water and with our charter, we are able to get you an up close and personal look. Our charter guests regularly watch sea lions lounging and playing in the bay, humpback whales rising to the surface, and our ever-entertaining killer whales. In fact, we were able to catch a video on our boat of a killer whale throwing a sea lion out of the water with his tail! Now imagine seeing that in real life!
Whatever the goal for your charter may be, our goals will quickly align with yours. Brian Ringeisen, Captain and guide at Angler's Adventures & Outfitters, is extremely knowledgeable and an experienced guide that knows these waters like the back of his hand. As a US Coast Guard, he is both CPR and first aid certified. He will always put the safety of his passengers first. At Anglers Adventures & Outfitters, cultivating a safe, great experience for everyone and creating memories that will last a lifetime is always the goal.
If you are interested in wildlife and whale watching charters in Alaska, you have found the right place at Angler's Adventures & Outfitters. For more information about our charter services, give us a call today at (907) 254-0880 or send us an email at brian@anglers-adventures.com.