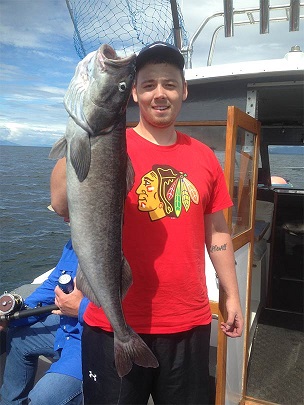 It's no secret that the best part of Alaska is clearly the fishing. Known for our gorgeous Black Cod and our allusive and much-desired Halibut, deep water fishing days are the best days here in Ketchikan, Alaska. At Anglers Adventures and Outfitters, we believe in giving our guests the full Alaskan experience when they come to town. That is exactly why we offer multi-day Alaskan fishing trips. At Anglers Adventures and Outfitters, guests can stay for 5 or 6 nights at our private and ocean view lodge. After waking up to a delicious cup of coffee while overlooking the stunning views of the Clover Pass, your day out on the water can officially begin.
Black Cod And Halibut Fishing
One of the many great things about staying at our private lodge is the ease and accessibility you have to get to the boat. With more time on our hands, we can really make the most out of our full day charter. During a full day charter, you will have the opportunity for both Block Cod and Halibut fishing. Black Cod is a succulent, rich flavored fish that offers a velvety texture with a beautiful snow-white filet. It is rich in oil content. Bottom line, they are delicious to eat. However, you can't really start catching them until you reach at least 700 feet of water. To do this, we need a full day out on the water. The same could be said for Halibut. Halibut fishing is a fun sport for even the most serious fisherman. They are strong fighters and one of the largest bony fish in the world. For this reason, many anglers have Halibut fishing on their bucket list. Just like the Black Cod, they live in deeper waters and require at least one full day of charter to get your perfect catch.
Alaskan Fishing Charter Trip
While out at sea with Anglers Adventures & Outfitters, rest assured that we will take care of you and your loved ones. We provide everyone with all of the essential gear and rainwear, bait, tackle and lures you would need to be successful out on the water. We also have snacks and beverages on board to keep your energy levels up for that special catch. Our boat has a heated cabin and private bathroom to keep you comfortable and is dressed with 225hp Honda engines, chart plotters, GPS, depth sounders, electric downriggers, rod holders and so much more. You will be more than prepared for anything that comes our way while out on the water.
Private Lodge In Ketchikan AK
After your day out at sea, coming back to a private lodge provides that much needed rest. The lodge even offers an attached and ventilated fish processing room with freezer storage to store all of your daily catches. Whether you go fishing every single day or decide to take a day to explore our beautiful town of Ketchikan, the sky's the limit during your Alaskan fishing trip.
For more information about our multi-day Alaskan fishing trip packages, give us a call today. Contact Anglers Adventures & Outfitters today at (907) 254-0880 or send us an email at brian@anglers-adventures.com.