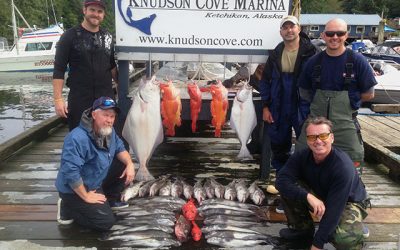 Ready to set out on a full day Alaskan adventure? At Anglers Adventures & Outfitters, we are ready to rev up our engines and create your most memorable fishing trip yet. Offering full day Alaskan fishing charters from Ketchikan, Alaska, our charters allow you to take in the many remarkable wonders that our Alaskan coast has to offer. From the breathtaking sites and beautiful wildlife to the once in a lifetime fishing opportunities, there is never a regrettable moment out on the water here at Anglers Adventures & Outfitters.
Full Day Fishing Charters
When you book a full day fishing charter with us, we will most certainly make the most of your time out on the water. Placing a focus on the catch of your choice, we will make sure that we have all of the right bait, tackle and lures to get the job done. Captain Brian, both a U.S. Coast Guard and expert guide in Southeast Alaska, has both the intelligence and experience to give you ample opportunities to finally reel in that fish you've always wanted. Out on the water, your safety, needs and desires are always our top priority. Full day fishing charters typically last around 8 to 10 hours. During that time, we provide all of the essential gear and rainwear. We have plenty of snacks and food to keep your energy levels up and help you reel in all the fish you want. On board, we provide a heated cabin, private bathroom, GPS, a chart plotter, a pair of 225hp Honda engines, depth sounders, electric downriggers, rod holders and so much more. Whether you are 8 or 80 years old, everyone is welcome aboard!
Customizing Your Full Day Charter
While fishing is our most common full day charter option, there is always ample opportunity for a little sightseeing. Full day charters allow you to get up close and personal views of our wildlife population. Sea lions, humpback whales and killer whales fill our Alaskan charters with excitement and almost a sense of enchantment. Whether you are coming just to soak up all the sights or looking to take some professional photographs up close and personal, our full day Alaskan charters allow you to customize your preferences and make the most out of your experience on the infamous Alaskan waters.
Ready to book your full day charter? For more information, give us a call today. Contact Anglers Adventures & Outfitters today at (907) 254-0880 or send us an email at brian@anglers-adventures.com.