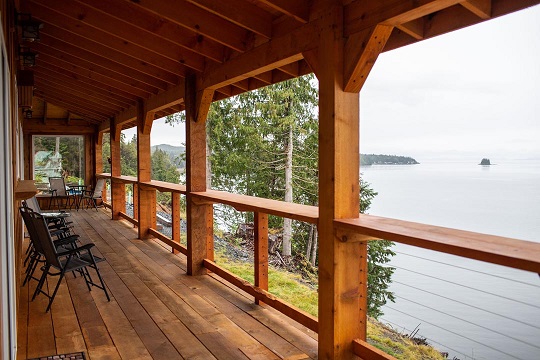 At Anglers Adventures & Outfitters, we want you to experience all that Alaska has to offer. One of the best ways to do that is to go "all in" on a fishing adventure! Our Southeast Alaskan waters are filled with fun adventures that always leave you wanting more. After a full day out on the water, there's nothing better than coming home to your private fishing lodge, taking a rest and then doing it all over again the next day. At Anglers Adventures & Outfitters, we are proud to offer our private, ocean view lodge to all of our guests looking to fish in Ketchikan, Alaska.
Located in beautiful Clover Pass, this stunning oceanside lodge has all the comforts of home. Newly completed in the fall of 2019, this lodge provides the ultimate rest and relaxation after a long day out on the water. Located minutes away from our charter boat in Knudson Cove, your fishing lodge oasis is just a few minutes away from all the action.
Ketchekan Fishing Lodge Amenities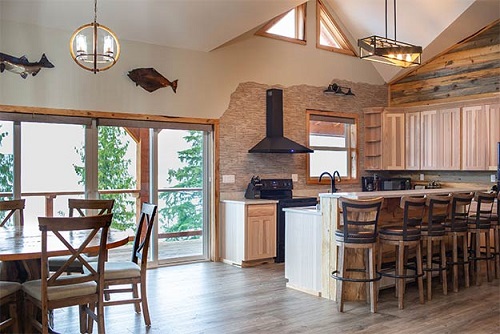 When you come to stay in our fishing lodge, expect clean, serene comfort. This private lot allows for gorgeous views in the morning. Take your coffee right out onto the large ocean view deck and enjoy the wildlife happening all around you. Once inside, get comfortable in our spacious, fully stocked kitchen and fully decorated living and dining rooms. With three bedrooms and two baths, your family will be more than comfortable here. Best of all, you can keep all of your catches with you at the lodge! Attached to our lodge is a ventilated fish processing room with plenty of freezer storage to process and store your fish appropriately.
Ketchekan Package Lodging And Fishing Deals
Making every moment count during your Alaskan fishing trip. Travelling from one vendor to another can be both costly and inconvenient. This is why Anglers Adventures offers a lodge package price for everything. Packages can vary but they typically include full day guided fishing, lodging and even fish processing. That's right: we will take care of everything you need while you are out on the water and then process your fish right at your lodge! Fish processing includes cleaning, vacuum sealing, freezing and even boxing up.
For more information and pictures regarding our fishing lodge and services here at Anglers Adventures & Outfitters, don't hesitate to reach out to us. Contact Anglers Adventures & outfitters today at (907) 254-0880 or send us an email at brian@anglers-adventures.com.