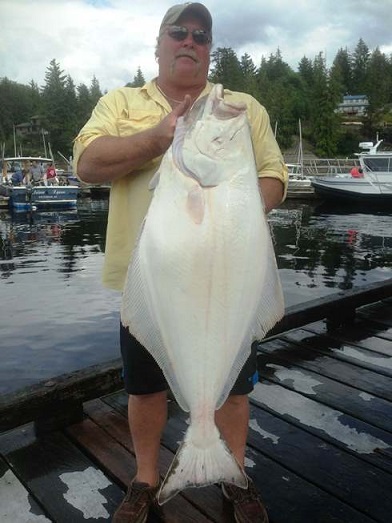 For those that are not familiar with halibut fishing, get ready to have some fun! Halibut fishing is all about good fishing, good times and delicious dinners. Not only is halibut incredibly scrumptious, but this bony fish also makes for a heck of a day out on the water. If you are looking to do any sort of trophy halibut fishing in Alaska, Anglers Adventures & Outfitters is the perfect place to be. Located in Ketchikan, Alaska, we aim to get you right on the halibut and reeling in your catch of a lifetime by the end of the day.
Why Is Fishing For Halibut So Fun?
It's no secret that Alaska is the salmon capital of the world. So why would you want to bait your hook for anything else? Simply put, halibut fishing is both fun and rewarding. Halibut fishing is most certainly a sport. They are naturally one of the boniest fish in the world. Thus, making them one of the strongest fighters in the world. While most halibut weigh anywhere from 15 to 20 pounds, anglers have wrangled and reeled in halibut well over 150 pounds. Bonus: After you spend an exciting day out on the water reeling them in, you get to enjoy their delicious flavor. Halibut are high in Omega-3 fatty acids, protein vitamins and minerals. Their mild flavor allows you to cook them in a variety of styles and always results in a delicious menu option.
Halibut Fishing in Kethikan
As one of the largest bony fish in the world, halibut can be a challenge to catch. As you fish for halibut, there are several things to consider. What size hook do you need to fish with? How deep do you fish for halibut? How do you target halibut? How do you rig correctly for halibut? Fortunately, we make it very simple for our guests. At Anglers Adventures & Outfitters, we handle all of the essential gear you could possibly need for halibut fishing. Bait, tackle, lures, snacks, drinks, etc. You name it, we've got it covered. Our boat comes equipped with a pair of 225hp Honda engines, a GPS, a chart plotter, depth sounders, a heated and enclosed cabin, and even a private bathroom. Most importantly, Captain and guide, Brian Ringeisen, is dedicated to providing you with all the advice and insight you need to make the most of your halibut charter.
Ready to go fishing? For more information about halibut fishing in Alaska and our services here at Anglers Adventures & Outfitters, give us a call today. Contact Anglers Adventures & Outfitters today at (907) 254-0880 or send us an email at brian@anglers-adventures.com.