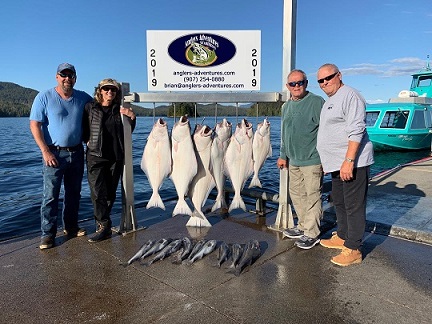 At Anglers Adventures & Outfitters, we are proud to offer some of the best halibut & salmon fishing in the Ketchikan, AK area. Our fishing charters are ideal for all fishing experience levels, and the experience that you have on our boat will be one that you remember for the long haul.
Part of the fishing experience is making sure that you are comfortable during the entire fishing charter. That all starts with the boat that you are on. We take our fishing charter guests out on the F/V Sierra Dawn, which is a 28' Bayline Trophy that has a new pair of 225hp Honda's. Additionally, this boat has a raised cabin and new electronics throughout the boat. The boat is loaded with all of the necessary gadgets to make your fishing charter a special one, including a chart plotter, GPS, depth sounders, 4 Scotty electric downriggers and rod holders. This boat easily fishes 4-6 individuals and provides access to a private bathroom and heated enclosed cabin.
Halibut And Salmon Fishing Charter In Ketchikan Alaska
Thanks to more than 26 years of guiding experience, you can count on our Captain, Brian Ringeisen, to find the best fishing locations around Ketchikan, AK for halibut and salmon. Ketchikan, AK is known as the salmon capital of the world, so you can bet that there is plenty of salmon in the water to go around for everyone fishing these waters. Some of the salmon that you may encounter on our fishing charter includes King, Chinook, Silver, Coho, Chum, Pink and Sockeye salmon. The most prized catch is the King Salmon, which is Alaska's state fish. When it comes to fishing for halibut, you better be ready for a big catch! Halibuts are strong fighters and are one of the largest bony fish in the world. So, after you reel in one of these halibuts, you'll be proud of yourself for winning the battle! On average, halibut weigh between 15 to 20 pounds, but over the years we have caught some halibut that weigh more than 150 pounds! Once your halibut and salmon fishing charter is complete, we can clean your fish including vacuum saving, freezing and shipping your fish back home to you if you'd like.
The waters of Ketchikan, AK are full of halibut and salmon. If you are looking for the best halibut and salmon fishing charter around, look no further than Anglers Adventures & Outfitters. To schedule your upcoming fishing charter, give us a call today at (907) 254-0880 or email brian@anglers-adventures.com.