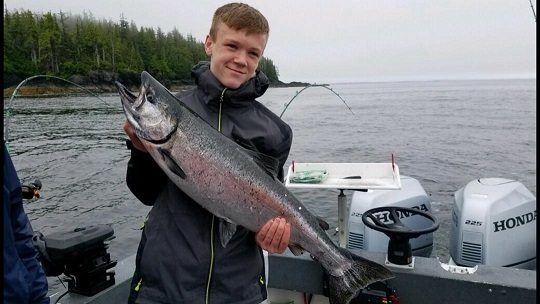 At Anglers Adventures & Outfitters, we want you to make the most of your Alaskan trip. So whether you have 5 days to fish with us or just one morning, we aim to show you all that our Alaskan waters have to offer. 4 hour fishing charters in Ketchikan, Alaska are a real treat! Known for the abundance of wildlife both in and out of the waters, a half-day fishing charter can be filled with lots of fish and wonderful memories made.
When you choose our half-day (4 hour) fishing option, we know that we've got to put you on the fish quickly. For these reasons, we typically don't go too far out to sea. Instead, we enjoy salmon, rockfish and black & grey cod fishing a little closer to home. Ketchikan, Alaska is well known as the salmon capital of the world. So even if you only have one morning to dedicate to salmon fishing, it will be well worth it. Most commonly, we focus on King and Silver salmon for our half-day charters. King salmon are known as the largest species of salmon and it's said they also taste the best. Reeling in that King salmon is always an unforgettable day out on the water. Now, there is something about rockfish and grey & black cod fishing that just pulls at our heart strings. These fish are bottom feeders, staying on the bottom of the ocean floor and hiding in crevices. They are so fun to catch! To catch these fish, we use dead baits of jigs at depths anywhere from 50-600 feet. When is the last time you've reeled in a fish from 300 feet depth? Not only are they fun to fish, they are delicious to eat and high in omega-3s!
All Inclusive Half-Day Charter
While you may only be with us for four hours, we have got you covered with everything you may need during your time here. All of our charters include snacks and drinks to keep you energized, all of the bait, tackle and lures you could need, any gear or rain gear that may be needed and all of the fishing guidance and instruction you could possibly want. Whether you are an experienced angler or it's your first time stepping foot on a boat, we are dedicated to making your experience great.
For more information about our 4 hour fishing charters in Ketchikan, Alaska, give us a call today. Contact Anglers Adventures & Outfitters for all of your Alaskan fishing charter questions at (907) 254-0880 or send us an email at brian@anglers-adventures.com.