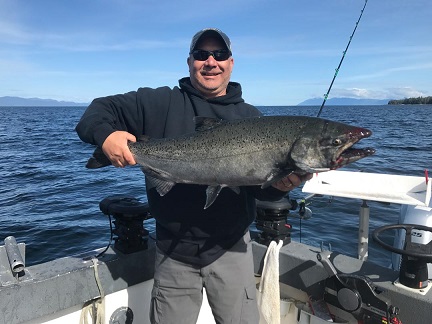 Are you planning a post covid-19 vacation for your family or friends in Alaska? If fishing is something that you love, then fishing in Ketchikan, Alaska is a must for the upcoming trip. Look no further than Anglers Adventures & Outfitters to provide you with a memorable fishing adventure that will check off all of the boxes for you and the rest of your party.
All Inclusive Guided Fishing Charter
The waters of Ketchikan, AK are beautiful and home to some very impressive fishing. Finding the right spot to fish can be difficult without any knowledge of these waters. By choosing to invest in a private guided fishing charter, you'll be able to fish some of the best areas around. Our owner and operator, Brain Ringeisen, has more than 26 years of guiding experience and has some of the best knowledge of these waters around. He has made Ketchikan, AK his permanent home and fishing is his passion. He is here to help make fishing your passion, too!
The Total Fishing Package
By choosing Anglers Adventures & Outfitters for your fishing adventures, you are tapping into the total package when it comes to a guided fishing charter. No matter the experience level, Brian will make sure that you have a memorable trip. You have access to all of the guidance and instruction that you want. Additionally, we provide you with your fishing gear, rain gear, bait, tackle, lures and even snacks and drinks. There is access to a heated cabin and private bathroom, and we can even clean your fish after the adventure is complete as well. Don't have a fishing license? No problem as we have fishing licenses and stamps available for sale on the boat. Regarding your fishing adventure, choose from our four-hour half day charter or our full day charter which lasts between 8-10 hours.
Wildlife Watching While You Fish
If you have an interest in the local wildlife, we have adventures for you as well. We can incorporate sight-seeing into your fishing adventure and take you to certain locations where sea lions and whales are prominent. Rest assured that you will experience some breathtaking views during this day out of the waters of Ketchikan, AK.
So, if you are planning an upcoming trip to Alaska, make sure that you make a stop in Ketchikan, AK to experience some of the best salmon and halibut fishing around. To schedule your upcoming fishing adventure with Anglers Adventures & Outfitters, give us a call today at (907) 254-0880 or email brian@anglers-adventures.com.