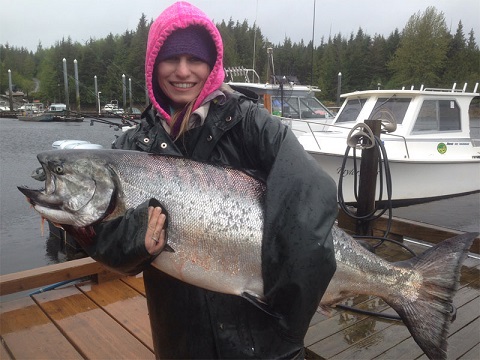 Whether you are solely coming to Alaska to fish, or you happen to be in town for some other reason, don't miss out on the opportunity to fish the Alaskan seas. At Anglers Adventures & Outfitters, we are here to help make your Alaskan fishing trip dreams come true. Located in Ketchikan, Alaska, also known as the salmon capital of the world, we are ready to take you on a fishing trip of a lifetime.
When you choose Anglers Adventures & Outfitters as your fishing charter, you are choosing the best. Captain Brian Ringeisen, owner and operator of Anglers Adventures, will knowledgeably guide you through the Alaskan waters, giving you all the fishing guidance and instruction you may want or need. With 26 years of guiding experience and serving as the U.S. Coast Guard Captain for over 25 years, there is truly no one better or safer. Captain Brian is CPR and First Aid Certified. Anglers Adventures & Outfitters is fully licensed and insured, giving you safety and peace of mind during your time out on the water.
Dream Salmon Fishing Trip
The best part of our fishing charters, however, has to be the amount of fun that everyone has. As a local boat, we know the best locations to put you right on the fish. If you have a goal or particular fish in mind, your goals quickly become our goals, and we do our best to exceed them each time we are out on the water. You don't need to be an expert angler in order to have a good time. In fact, all you need to do is show up. We have all of the knowledge and fishing guidance experience to teach you along the way. We cover all of the gear from your bait, tackle and lures to your rain gear. From novice to expert, from 8 years old to 80, everyone is welcome on our boat and we look forward to making memories with you that last a lifetime.
Whether you are trying to catch that big King Salmon or find yourself itching to fight with the allusive halibut, we are here to help. We cover all the snacks and drinks to keep you energized for a full day out on the water. We also have a heated cabin and private bathroom to keep you comfortable. Fishing licenses and stamps are available for sale on the boat, and we can even provide the fish cleaning and shipping for an additional cost when you catch that beautiful fish. Don't miss an opportunity of a lifetime with our Alaskan fishing charter. For more information about booking your fishing charter in Alaska today, call Anglers Adventures & Outfitters at (907) 254-0880 or send us an email directly at brian@anglers-adventures.com