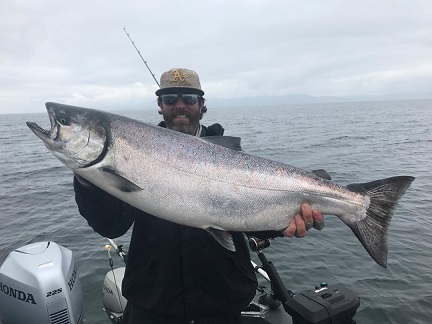 At Anglers Adventures & Outfitters, we aim to give you the full-on experience of Alaskan fishing. Fishing in Alaska comes in a variety of opportunities. From looking for a prized King Salmon or reeling in one of the strongest, boniest fish like our halibut, Alaskan fishing is an angler's dream. Fortunately, you don't have to be a crazy, expert angler to enjoy fishing on the Alaskan waters. At Anglers Adventures & Adventures, we offer full day Alaskan fishing charters for both novice and expert fishermen.
Fishing The Alaskan Waters
At Anglers Adventures & Outfitters, we welcome the opportunity to designate your trip to a certain type of catch. Our most popular full day fishing charters include searching for the infamous Alaskan salmon, reeling in the allusive Halibut, catching the delicious black & grey cod, and so much more. The best part about your full day fishing charter is that it is totally up to you! Let us know what your goals are for the trip, and we will customize and accommodate to fulfill your needs. Full day fishing charters are such a unique bonding experience away from all of the hustle and bustle of modern life. It is a timeless day that will be reminded long after your Alaskan trip is over.
Full Day Charter Accommodations
When you choose larger fishing charter vessels, the experience can sometimes lessen. Booking with Anglers Adventures & Outfitters allows you to have both an authentic and comfortable experience during your full day charter. Our F/V Dierra Dawn 28' Bayliner Trophy boat is more than accommodating for 4-6 guests to enjoy time out on the Alaskan water. It comes equipped with a pair of 225hp Honda engines, a chart plotter, GPS, depth sounders, 4 Scotty electric downriggers and rod holders. Everything you need is right at your fingertips. During your fishing charter, we provide all of your essential gear, including rain gear. We will bring along all of the bait, tackle, lures, snacks and beverages that you could possibly want. Additionally, we have fishing licenses and stamps available for sale on the boat, so no outside arrangements need to be made.
Lastly, a full day Alaskan fishing charter with Anglers Adventures & Outfitters means a full day of fun, knowledge and safety. With over 26 years of guiding experience and an experienced coast guard official, Captain Brian Ringeisen has more than enough experience to teach you everything you need to know out on the water and take you to the best local fishing spots around. If you are interested in a full day Alaskan fishing charter, don't wait another minute to book. For more information or to book your spot, give Anglers Adventures & Outfitters a call today at (907) 254-0880 or send us an email at brian@anglers-adventures.com.