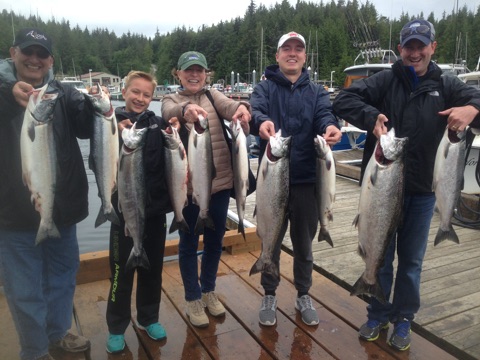 Anglers Adventures & Outfitters offers full service, full-day fishing charters, and our services are not just for experienced fishermen. We enjoy our time with our most experienced guests as well as those who are fishing for the first time in their lives. We take our guests out on the waters off Ketchikan, Alaska, in the stunningly beautiful Knudson Cove. The fact that Knudson Cove is located so close to Ketchikan means that you get to spend more time fishing and less time traveling to and from your fishing location. That also means that a full-day fishing charter allows you to spend as much as ten hours on the water, in your attempt to land the biggest fish of your life.
All you need to bring is clothing that will keep you warm and dry, and the desire to enjoy fishing in the world's most beautiful location. We will take care of the rest – we will supply you with the gear, the bait and tackle and the breathtaking location that is stocked equally with fish and future memories.
Fishing Charters For Everyone
In addition to some of the most beautiful scenery in the world, you will also be treated to a ride on a spectacular boat. The Sierra Dawn is piloted by Brian Ringeissen, who is an experienced captain who understands how to provide an adventure while maximizing the safety and enjoyment of our guests. The Sierra Dawn is his pride and joy. It is a beautiful boat that is equipped with two Honda 225-horsepower engines. Additionally, it has GPS navigation, depth sounders, and multiple other safety features to provide even the most inexperienced anglers with reassurance.
If you need a break from a full-day fishing excursion, The Sierra Dawn is packed with creature comforts, including a private, heated cabin; private restroom; and snacks. When it comes time to get back to the primary reason for your visit—fishing—our equipment awaits you. There is no need for you to travel with your own equipment because we provide you with everything you will need in order to get the most out of your Alaska fishing excursion. We supply the fishing rods, the bait and tackle, and other equipment necessary for landing the fish of your dreams.
Private Guided Alaska Fishing Charters
Captian Brian Ringeisen provides a safe experience, and The Sierra Dawn provides a comfortable experience. But it is the natural beauty of Ketchikan, Alaska, the fish that nibble at your bait, and the chance of spotting playful seals and/or a breaching whale that provide the memories of a lifetime. Call us at (907) 254-0880 to schedule your next fishing charter.