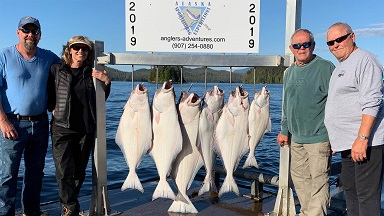 What do you like to do when you are in Alaska? Well, I like to go fishing from time to time…just for the halibut! All jokes and puns aside, when people venture to Alaska, almost everyone wants to get out onto that Alaskan water and catch a fish. One of the most fun, exhilarating catches in our Alaskan seas happens to be the strong and delicious halibut.
If you are searching for an angler's dream fishing trip, a halibut fishing charter with Anglers Adventures & Outfitters is the perfect choice. Let us help you create memories of a lifetime reeling in one of the strongest fish out in the water. Whether you have never fished a day in your life or if you are a serious angler jumping at the opportunity, halibut fishing is a fun day out in the water.
Deam Halibut Fishing Trip
Halibut can weigh anywhere from 15 to well over 150 pounds. Catching a halibut is a big goal for many sportsmen and Ketchikan, Alaska is a great place to achieve that goal. Halibut are known for putting up a big fight when it comes to reeling them in. This is largely due to them being one of the largest bony fish in the world. Halibut swims sideways in the water and are extremely rich in nutrients like Omega-3 fatty acids, protein, vitamins and minerals. They are just as delicious as they are nutritious and a nice delicacy for any dinner. The only thing you have to do is catch one!
Halibut Fishing Ketchikan Alaska
Since halibut are strong fighters, it takes having the right equipment and the right guide to help you be successful out on the water. At Anglers Adventures & Outfitters, we have got you covered. All of our charters include all of the bait, tackle, lures and all other essential gear needed to for a successful day out on the water. With drinks and snacks on board, we keep you hydrated and energized for reeling in your bony fish. Your Captain, Brian Ringeisen, is a local native that has been a licensed US Coast Guard Captain for over 25 years and an experienced guide for over 26. He is extremely knowledgeable in halibut fishing and has helped many guests achieve their bucket list dreams of halibut fishing in the Alaskan waters.
If you are searching for halibut fishing, look no further than your friendly professionals here at Anglers Adventures & Outfitters. Located in Ketchikan, Alaska, we have everyone you need to create long lasting memories right out on the water. For more information, give us a call today at (907) 254-0880 or send us an email at brian@anglers-adventures.com.