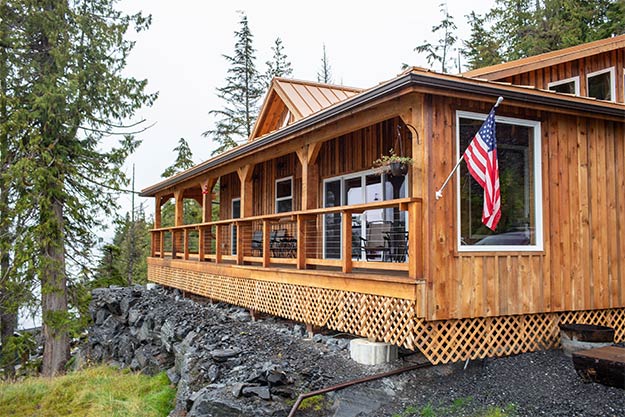 When you decide to take an Alaskan fishing trip, it's important to plan for every aspect. If you go on a three-day Salmon charter, chances are you are going to bring back some fish! Having a warm place to lay your head down at night and store your prized possessions is important. At Anglers Adventure & Outfitters, we have thought of everything. Known for our amazing full and half day charters out on the Alaskan water, we take it a step further once you get on land. With a beautiful, private oceanside lodge, you will have everything you could possibly need right at your fingertips.
Alaskan Charter Fishing & Lodging
At Anglers Adventure & Outfitters, we are considered the best when it comes to Alaskan charter fishing. Utilizing our charter services gets you an up close and personal ticket to all that our Alaskan waters has to offer. Typically, our full charter days range anywhere from 8 to 10 hours. Accommodating anywhere from 4 to 6 guests onboard, we aim for intimate, personal experiences for each guest that allows them to leave their worries on the shore and enjoy quality time out on the water. From all types of salmon to halibut, rockfish and even black and grey cod, we fish for many different types of fish well known to Alaska. No need for expertise or know how, owner and Captain, Brian Ringeisen, can guide and teach you everything you need to know out on the water. Your goals quickly become our own as we take you to the best local fishing spots that put you right on the fish of your dreams. We cover all of the essential gear and rainwear, the bait, tackle, lures and even all of your snacks and drinks. Whatever fish you've been hoping for, we will do our best to help you reel it in.
Once you've finished a long day out on the water, unloading and relaxing oceanside within our lodge is the perfect way to unwind. With three bedrooms, two full baths and a large oceanview deck, what's not to love? The kitchen is filled with everything you might need for cooking and an attached fish processing room with freezer storage is ready to be utilized after such a successful day out on the water. For those who book both the charter and lodging, we will include fish processing within the package. That means your catch will be cleaned, vacuum sealed, frozen and boxed up, ready for you to ship home when you leave.
If you've ever wanted to take an Alaskan fishing trip, this is absolutely the right way to do it. For more information about fishing and lodging in Alaska or for detailed pricing information, give us a call today at Anglers Adventures & Outfitters. Contact us today at (907) 254-0880 or send us an email at brian@anglers-adventures.com.